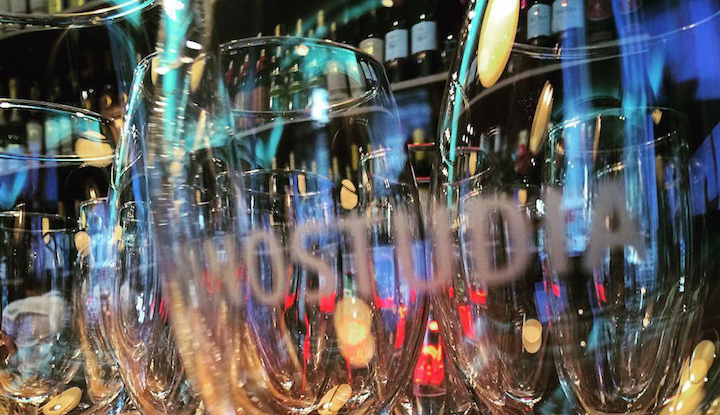 World's Leading Travel Destination 2016. Part 2
We've already made a list of top places to eat and drink coffee for foreigners in the World's Leading Cultural City Destination of 2016 – Saint Petersburg. Now, as promised, we are going to  tell you about places where to have fun – both at night and during the day.
Let's start with nightlife. Saint Petersburg is all about wine and cocktails in bars with wine and cocktails. If you're a party animal, you may probably not stay satisfied with the city's nightlife (you may try Dumskaya street, though, but we strongly advise not to get too drunk and never go there alone as the fun usually goes out of control). However, if you prefer long talks over a bottle of Chianti Classico or endless Aperol Spritz drinks in a cosy place with the lights off – you'll never get enough out of Saint Petersburg. There's even a term for that – "bar hopping". It means going from one bar to another  the whole night, having a drink or two at each one, meeting old friends everywhere and ending only God knows where – because you can never choose one single place to stay for the night. This may seem too complicated for you, so we advise to visit listed places at first.
Rubinstein Street
photo credit: @annagadeliya
Rubinstein street is the heart of Saint Petersburg nightlife. Endless bars, cafes and restaurants are scattered from the so-called 5 Corners crossing right till the Nevsky Prospect. The most famous wine bars worth visiting are Vinostudia, Pro Wines, All Day Wine and a newborn but extremely popular Crazy Wines. Each of them offers wide variety of wines from all over the world for every taste and yummy appetizers. And you'd better book a table in advance if you're going out on weekend.
If you prefer noisy bars with unusual cocktails, go to Tsvetochki – great music, weird but amiable people and exceptional drinks provided. In case you get hungry, try Fartuk or Schastie – located next to each other, these two cafes are just equally charming.
We can't help but mention 48 Chairs bar – live jazz concerts, great food and a wide wine listing will make your night fabulous (but be aware to book a table in advance). For burger lovers there is not only McDonald's but also City Grill, something of a fast-food restaurant with almost the best burgers in town of an excellent quality.
All in all, if you don't know where to go or what to do tonight, choose Rubinstein street.
Mollie's Pubs
photo credit: @wowsaint
Mollie's is a chain of pubs located all over the city. Wherever you are, you can always find  a pub somewhere close to you. And you know what? Each of them is great. Take Office Pub on Kazanskaya street: traditional Irish interior, extensive choice of beer and sport channels aired all around – what else do you need to relax after long walks throughout the city?
We advise you to try several lagers you've never tried before together with fried cheese and salted nuts. And a little tip: if there's a hockey championship going on, and you're Canadian, you'd better not tell anyone about that!
Tanсploshadka
photo credit: @lerikadavydova
Saint Petersburg is all about bohemian bars where people prefer talking to dancing, but in case you do feel like dancing, there is one secret place you should go. Opened not too long ago, Tancploshadka has become the place of power for the city's night culture. Funky parties go together with the dancefloor blowing hits by the hottest DJs from Europe. You will see the most patchy audience in this club and that's what we like about it: you always feel comfortable.
Bonus
photo credit: @axxford
If you're lucky to have a lot of time in Saint Petersburg and have already seen all the expositions in Hermitage and visited other must-go places, we have a couple of extra-activities which will make you fall in love with the city even deeper!
For instance, if you come there in summer, you should definitely try rooftops tour. That's the point about St. P: it's much more beautiful from above. Colorful tegular roofs, golden churches' spires and endless blue sky make the most impressive view. There are plenty of guides who can show you around the rooftops or even organize a date under the stars with this spectacular view.
photo credit: @peshenkoe

Other specialty in Saint Petersburg is it's secret courtyards in the city center. You may get amazed by how much beauty is hidden from the view! There are plenty of yards located minute away from the busiest streets with unique courtyards decorated with mosaics and fountains inside. And no one is usually there – the perfect match for meditation after tiring walks through the city.
And in search for romance try night boat trips. It's possible to do this any time of the year when the navigation is on but is best in  summer. Stars, bridges, city lights and a bottle of your favorite champagne – can anything be better to finish your Saint Petersburg holidays?
And if you made friends in Saint-Petersburg and want to keep in touch with them, simply use Yolla to make calls to Russia and talk with your new Russian friends for cheap!
photo credit: @andrei_mikhailov