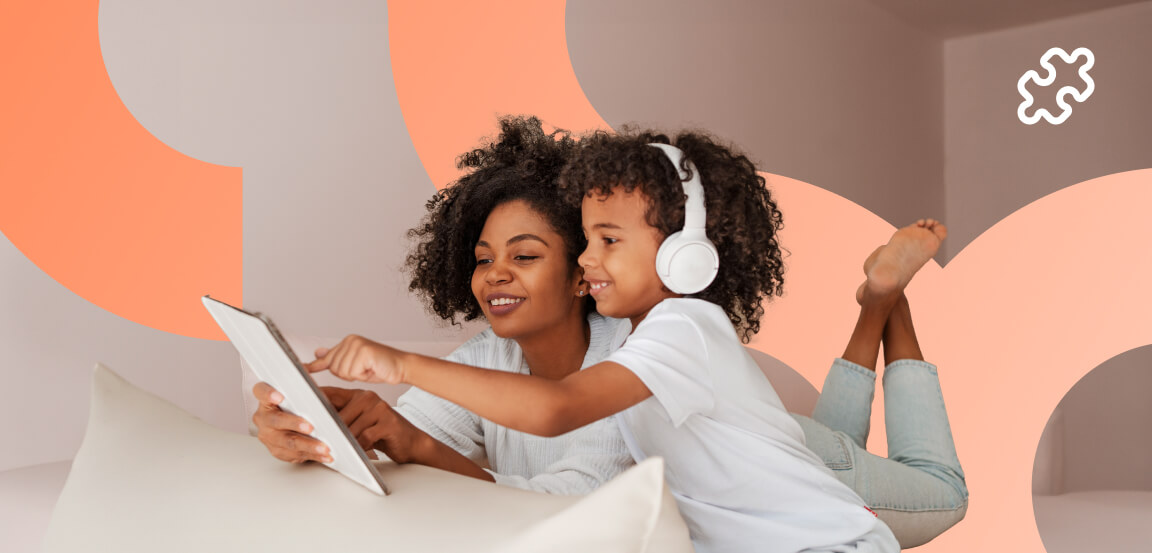 Top 16 Online Games and Activities for Family and Friends: Spending Time Together Online
Thankfully, In today's digital age, staying connected with family and friends is easier than ever. Calls and texts are extremely important and should never be replaced, but there are many other ways for you and your family to engage with each other online through internet-based activities that can help you bond, have fun, and create lasting memories together. They can also help you to learn things, and that's not just the kids in the family. Online activities offer all age groups a wide range of benefits. Whether you're looking for online games to play or engaging activities to organize, this guide has you covered. Let's explore a variety of online options for keeping the connection alive.
Categories for Family-Friendly Online Activities
Amazing isn't it? Creating unforgettable family moments without being in the same room; the online activities that allow you to connect and have fun with your loved ones, no matter the distance. So, whether you're separated by miles or just looking for ways to bond with your family, this section explores the different kinds of family-friendly online activities. We've included something for everyone, from interactive games to engaging quizzes and art-based projects. Welcome to the exciting world of virtual family time and discover ways to have fun, learn, and stay connected.
1. Online Games
Board games
Classic board games have digital versions that allow you to play with friends and family online. For example, Monopoly offers virtual properties to buy and trade. Note that in this online version of Monopoly, you can still all play together, but one of you will have to control everyone. There's also Scrabble, which is free to play online as a family. Or maybe you would prefer to play Chess. Whatever board game you choose, test your skills against real-life opponents or even family members.
Video games
Although not always family-friendly, some video games offer an immersive opportunity to explore new worlds and complete objectives collaboratively as a family. Just ensure the game you choose to play with family members is rated as child-friendly and appropriate. In the next section, we've included some of our favorite multiplayer family video games.
Trivia games and quizzes
Trivia games are exciting and fun. We'll recommend our favorite trivia game later in the article, but many are similar. You usually need to enter a code to join a session with other family members. Compete in a playful way against the clock and see who wins the quiz. There are hundreds of quiz themes, from history to pop culture.
Virtual escape rooms
Many companies offer online escape room experiences that require teamwork and problem-solving to solve puzzles and "escape" within a time limit. They are exciting and a great way of bringing the family together virtually. Get lost in the story and develop a passion for problem-solving!
Drawing and guessing games
As a family, team up or play against each other. Think of a word and create a picture based on that word. Other family members work against the clock to guess the word based on what they can see you are drawing in real time. This is a great game for those looking to improve their language skills. Our favorite drawing and guessing game is Skribbl.io; check it out in the next section!
2. Online Activities
Virtual literature club
Virtual literature clubs are great for a number of reasons: they give you high-quality family time, they give you an objective, and they ensure that learning happens. Form a club with your family to select and read exciting and fascinating books together, then hold discussions using apps like Yolla.
Virtual movie nights
Organize a movie night with your family! Select a film and synchronize playtimes using a clever online application such as Amazon Watch Party or Rave.io. We like Rave.io especially because it's free, and you can use it across a number of streaming services. After you've finished watching your film, why not discuss it together for extra family quality time?
3. Virtual Social Gatherings
Virtual family events
Host virtual family reunions, birthday parties, and holiday celebrations to keep the family connected, even when you aren't all together in person. We recommend that if you decide to host a virtual family event, make sure to choose the right time for your event, make sure to invite everybody well in advance, and come up with a schedule for the event. These are just some tips to ensure that your virtual celebration does become simply a family video call.
4. Arts and Crafts
Collaborative art projects
Work on family art projects together, even from different locations, by sharing ideas and creations through video calls. You can either create your own personalized projects or go online and find a number of different art ideas and projects hosted by a number of great organizations. We personally really like the Tate Make collection of kid's art projects by the Tate Gallery in the UK, but feel free to check out others.
Creative storytelling or writing exercises
Engage in creative writing, share stories, or even write collaboratively to spark creativity and imagination. Again, this is something you could either make for your family from scratch or, for a time-saving alternative, find something online to get you started. Here's a great website to help.
5. Music and Karaoke
Virtual jam sessions
Play musical instruments or sing together in real time via video chat for an enjoyable musical experience as a family.
Karaoke contests
Organize karaoke contests where each of you takes turns singing your favorite songs and showcasing your talents. This is a really fun and expressive activity that is bound to get the whole family smiling wherever you are. Simply find a song you enjoy and search for the karaoke version of it. For example, here's the karaoke version of You've Got a Friend in Me from Toy Story.
Online music lessons
There are a number of excellent music education providers online. We really like Inside the Orchestra, as they offer a screen-free children's option called Tiny Tots, created by musicians for children to engage with sound and music. It's also available in a number of languages. Learn to play musical instruments or enhance your musical skills through online lessons and practice sessions.
6. Fitness and Wellness
Group workouts and family fitness challenges
Staying healthy is important. Group workouts and family fitness challenges offer a way to achieve this while fostering togetherness, even from a distance. Exercising with loved ones virtually is motivating and provides support to overcome challenging routines. Fitness challenges add a fun, competitive edge to workouts while also teaching responsibility and consistency. Variety is introduced through different exercise types, from yoga to dance. Engaging in these activities promotes family bonding, collective progress, and togetherness. Ideas include daily fitness goals, online classes, mini Olympics, virtual dance parties, bodyweight workouts, step competitions, and healthy cooking challenges. These activities nurture physical fitness and create a strong foundation for a healthier and happier family life.
7. Cooking: Exploring Cuisine and Learning Skills
Cooking classes, baking challenges, and international cuisine nights
Discover new culinary skills by taking online cooking classes and engaging in friendly baking competitions. Explore international cuisines together or simply organize a meal to make together virtually. Maybe there's something from back home that you're missing? Meet up online with the people who make it best and follow their lead. Maybe there's a dish your kids love; teach them how to make it online!
8. Education and Learning
Online classes and courses
Enroll in online courses as a family for new skills or to improve existing ones. It could be something you do for one hour per week. Learn about a number of child-relevant topics on platforms like Coursera or edX, which both offer lots of free and engaging online courses. If you would like to pursue something a little more extensive, which could be the start of a potential career for your child, why not try Coco Coders?
9. Exploration and Travel
Virtual tours
Explore famous museums, landmarks, and zoos from the comfort of your home. It's not just educational but also a fun experience for the entire family. There are a number of different museums which offer their services online. Here are two of our favorites: 1. The Natural History Museum, UK, 2. National Museum of Natural History, America.
Travel planning
Engage in lively discussions and future vacation planning as a family. Share ideas and destinations you'd love to visit, making it a collaborative experience even from a distance. They don't need to be places you will actually visit, just places you think would be exciting. You could even take turns to create a presentation for each other on the places you would like to go visit. Importantly, as well as bringing the family together virtually, this activity is a great way of teaching your kids about the world, which brings us to our next activity.
Geography quizzes
Test your family's knowledge of the world with friendly geography quizzes. Challenge each other with questions about countries, capitals, and more, turning your virtual gatherings into enjoyable and educational experiences. This could follow nicely from our previous activity.
10. Puzzles and Brain Teasers
Jigsaw puzzles
Working on jigsaw puzzles together online is an excellent way to combine relaxation with mental engagement. Our favorite website for online family jigsaw puzzles is Jigsaw365, where you can choose from a variety of simple or complex images and designs. It's also free, and you can easily share puzzles with each other. Collaborate to solve these puzzles, each member contributing their unique perspective. They've been around for a long time, but puzzles are still a great bonding experience, whether you're in the same room or miles apart.
Sudoku
Sudoku puzzles are perfect for sharpening your logic and problem-solving skills while enjoying quality family time. In the virtual world, you can engage in friendly competitions by challenging each other to complete Sudoku grids. Work together to crack the numerical codes, exchange solving strategies, and see who can complete the puzzle the fastest. Sudokus are a rewarding and mentally stimulating family activity, even when you're separated by distance. Here's our favorite multiplayer online Sudoku.
Riddles and brain teasers
Riddles and brain teasers are a great way to get the family to exercise their critical thinking and creativity. Share riddles that require inventive solutions or classic brain teasers that have stood the test of time. Engage in lively discussions, take turns presenting riddles to solve, and enjoy each "aha!" moment. Riddles not only provide entertainment but also promote mental agility, making them a fantastic choice for virtual family activities that are both enjoyable and intellectually stimulating. Here's our favorite place to find engaging online riddles and brain games. Whether you're virtually connected or sitting in the same room, riddles can bring laughter and mental challenges to your family time.
Games to Play with Family and Friends Online: Our Top 4
Minecraft is a sandbox video game that offers an open world for exploration and creativity. It's perfect for family and friends looking to embark on virtual adventures together. Whether you're building structures, mining resources, or exploring vast landscapes, Minecraft's multiplayer mode allows you to connect with others and create your own shared worlds.
Escape Live offers virtual escape room experiences where you and your loved ones can work together to solve puzzles and "escape" from themed rooms. Through video conferencing, you can communicate and share your findings with your team, making it feel like you're all in the same physical space, even when you're miles apart.
Heads Up is an entertaining word-guessing game that you can play remotely. One player holds a card with a word on their forehead while others give clues. The challenge is to guess the word based on the hints you receive. There are various themed decks, making it a versatile and enjoyable game for all ages.
Rocket League is a high-octane soccer game with rocket-powered cars. You can team up with your friends or family members and engage in thrilling matches. It's a fantastic choice for those looking to add some excitement and friendly competition to their online gaming experiences.
Free Games to Play with Your Family Online: Our Top 8
Pictionary is a classic drawing and guessing game that has seamlessly transitioned to the online world. You can play it on various platforms or use dedicated online Pictionary games. One player draws a word or phrase while others guess what it is. The digital format allows you to create your own virtual game rooms, making it easy to enjoy this creative and highly interactive game with friends and family, regardless of physical distance. But this free version is the traditional way of playing. Simply use the pictionary word generator to help you think of a word or a phrase and then draw it. Family members on the online call will guess when you show them the drawing.
Kahoot is an educational and entertaining online quiz platform. You can create and participate in quizzes on a wide range of topics, from trivia to academic subjects. The competitive spirit of Kahoot adds a fun and engaging element to learning. Create your own family-themed quizzes or explore the vast library of user-generated content to challenge your friends and family. Remember, this is the free version, but there is also an option to upgrade to the premium version.
Skribbl.io is an online drawing and guessing game that's reminiscent of Pictionary. You create private rooms and invite your friends or family to join. In turns, players draw a word or phrase while others guess what it is. It's a lighthearted and amusing game that allows you to flex your artistic skills and enjoy humorous outcomes.
Scattergories is a word game that has made its way to the virtual world, although this free version simply offers you a list of words from which to pick. You can play it with friends and family online. The game provides a list of categories and a random letter, and players must come up with words that fit the criteria starting with that letter. It's a test of creativity and quick thinking that's great for virtual gatherings. If you would like to use this free version with your family, simply share your screen with them via a video platform.
5. Human Dictionary
Human Dictionary is a word-based game that involves defining words for others to guess. It's a fun exercise in vocabulary and wordplay. You can play it online with friends and family easily, simply by sharing in a video call, where each family member takes it, in turn, to describe a word, meaning, etc, while others take turns as the guessers. It's both entertaining and educational.
6. "Most Likely To…"
"Most Likely To" is a popular conversational game. This game gets everyone talking and laughing. You'll answer questions about who's "most likely to" do certain things in your group. It's an icebreaker and a great way to kick off a virtual family or friend get-together. Maybe this is something you could feature at the start of your virtual social gathering.
Let's talk about Mario Kart Tour! It's the classic Mario Kart we all love, but now it's right there on your mobile. You can race, challenge your friends, and team up in multiplayer modes. It's a well-known and popular game franchise that's smoothly made the jump to the online world, and it's really fun! It might not be the most educational of family quality time, but it's likely to put a smile on your face.
Words with Friends is like an online word game cousin to Scrabble. You get to play it with friends and family, taking turns to place words on a virtual game board. It's perfect for those of you who love a good wordplay challenge and want to stay connected through some friendly competition and wordy fun, no matter where you all are.
Top 4 Online Activities for Families
It may seem like a fairly simple idea, but it's a great way of ensuring that you can do that thing we all love doing, wherever you all are: watching a film. Rave.io is an application that brings the whole family together, ensuring the film that you decide to watch together is synced from the moment you all press play. What's even better is that if you decide to pause for any reason, the film will pause for everyone. Maybe something funny happens that you want to laugh about with your family members; simply pause the movie, and Rave.io will pause it for everyone.
Educational Entertainment for Kids: Inside the Orchestra's "Tiny Tots Packages" offer an excellent way for families to combine education and entertainment. These packages are designed specifically for young children, introducing them to the world of classical music in a fun and engaging way. This can be a valuable family activity where your children develop an interest in music and culture from a young age, which has been proven to help them in general with any other learning that they do. There are a number of courses to pick from, at a range of costs, starting from $15.
Explore Natural Wonders from Home: The Natural History Museum's virtual museum allows you and your family to explore the world's natural wonders from the comfort of your home. It's a great opportunity for parents to engage in educational activities with their children. The virtual exhibits and resources enable families to discover the fascinating world of science, history, and nature together. What's best is that it's something that you can do together, wherever you all are. Simply start a video call together, send the link to everyone in the call, and explore as you would if you were all in a museum together in person. You don't need to stay in the same part of the museum, and there's no chance of any of you getting lost like you might in real life! It's also mostly free!
Foster Creativity and Expression: Tate Kids' "Make Art" activities provide an excellent platform for families to unleash their creativity and artistic expression. Engaging in art projects together can be a fantastic way to bond, encourage artistic exploration, and spend quality time. It's an opportunity for children to learn and create alongside their parents, making art a family activity. Remember, art is an important part of children's learning. It's also a great way to bring the family together and watch as your children develop. It's also completely free and offers a range of activities that will keep you and your children entertained for a long time. Why not take it up as a weekly routine and an opportunity to come together as a family?
Our Special Mention
We understand that you and your family might not currently be together, but that doesn't have to stop you from experiencing "the great outdoors" together. Just because you're living abroad now doesn't mean that you'll never go home. Maybe you visit home once a year, or maybe every 2-3 years.
Here's how you still might be able to use Geocaching:
When you go home for a visit, make a geocache with gifts/items of sentimental value locally for your family/friends to find later.
When it's finally time for you to leave, tell your friends or family about a geocache and give them the GPS coordinates.
If you have younger children or younger siblings, it might be especially fun for them, as something they might see as a quest or challenge. Geocaching is also a great way to leave behind some extra memories for loved ones; you might be geocaching something that's of particular meaning to you that will make them feel extra loved.  Visit the Geocache website here to find out how to start. When you've left something for your family and friends, let them know about it by staying in touch with them through Yolla.
Friends and Family Not Online? Use Yolla!
Sometimes, it just isn't possible to connect through online activities with friends and family, they might not currently have internet access for a number of different reasons.  That's where Yolla comes in! Yolla is an amazing international calling application, which offers really well-priced calls, starting at just 1 cent per minute. The people you're calling don't need to have an internet connection, and you can use your existing phone number with Yolla, so the people you're calling will know it's you. Even if you aren't with your friends and family, and even if they don't have internet access. You can be the important connection and familiar voice that they need to hear.
Why Yolla?
WhatsApp and other messaging apps have become the norm, but Yolla stands out as an easy-to-use, convenient, and user-friendly international calling app for a broader audience, including those without reliable internet access. Here's why we think you should choose Yolla::
1. Offline Accessibility
Yolla allows you to reach friends and family even when they aren't online.
2. Call Any Number
With Yolla, call any mobile or landline number, even when they don't have the Yolla app. This provides flexibility that most online messengers can't.
3. Use Your Own Number
Use your existing phone number. Whoever you're calling knows it's you calling, always.
4. Cost-Effective Rates
Starting at just 1 cent per minute, Yolla is likely cheaper than alternatives.
5. High-Quality Calls
Get crystal-clear voice quality with Yolla, something that alternative messengers simply can't offer.
6. Earn Free Credits
Yolla provides an opportunity to earn free credits through referrals, find out more below!
Using Yolla for Free
It's also possible to make calls with Yolla for free! That's right. Simply follow these instructions.
Step-by-Step Instructions for using Yolla
Here's how to start using Yolla – It's simple:
Download the app from either the App Store or Google Play Store.
Create an account.
Add credit using a credit card or PayPal.
Go to the keypad section on the app.
Search for and then select a country for the dropdown list.
Enter the phone number of the person that you want to call.
Enjoy a seamless, HD calling experience to any phone (mobile or landline).
Summary
In a world that can sometimes feel disconnected, fast-paced, and lacking quality time, these family-friendly online activities offer a means to stay close, learn together, and treasure the moments that matter most. So, go ahead, explore the exciting world of virtual family time, and create lasting bonds, no matter where you are.