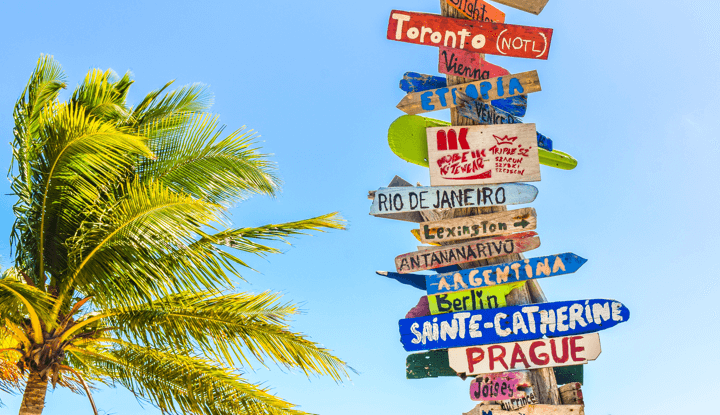 5 Essential Travel Tips: avoid roaming and more
Planning your next trip? Many Yolla users are vivid travelers, but it's equally easy for everyone to miss out on something in spite of the travel experience level. As a gift, we share with you the essential tips which come in handy before every travel. By the way, don't forget to use Yolla for international calls to avoid roaming.
Luggage: the Less the Better
Depending on many factors, you may need pretty different kinds of luggage to take on with you. If you are traveling to another part of the world where there are a different season and weather conditions, you definitely have to consider your luggage carefully.
On the other hand, here is a usual story: one takes 23 kg of clothes and wears one pair of jeans for the whole journey. It happens all the time, right? Take a moment and think what exactly are you going to wear, what do weather forecasts say, and what activities are you going to participate in. Lay everything you think you need around on your bed, reconsider whether you really need it, and put it in your luggage.
And always bear in mind your tickets – you don't want to be surprised at the gate by paying unexpected fees for extra check-in luggage, right?
Speaking of fees, don't forget to take your smartphone with Yolla with you to avoid international cell phone charges.
Every Battery Life Matter
If you're going to visit places with fewer charges than gold bars, think of a portable recharger to take with you. A lifehack: nowadays there are solutions working on solar energy! Simply hang it on your backpack and get the smartphone recharged till the daylight is gone.
If you're planning on visiting London, dependence on sunshine is not an option. Choose recharges with a prolonged power time to recharge more than once during the day. We bet your Instagram followers would not be happy to miss new photos!
Parlo Italiano?
Whatever country you are going to, take some time to learn its' language basics. It can save your life in case of emergency and get you better service everywhere – from your hotel check-ins to restaurants you'll be having dinner.
Another useful tip is to take a good-old dictionary or a phrasebook with you as you probably will not have an internet connection all the time. In some countries, it's essential – not everywhere people speak English on the proper level. And if you have friends who speak the language of the country you are currently in, you can always call them and ask them to translate something for you! Just don't forget to use Yolla to avoid roaming fees.
Be On Line
We know how important it is to be on call while traveling. First, you talk to your friends and relatives who aren't so lucky – and, as a rule, these emotions are way too passionate to be put in any message. Second, sometimes your business affairs won't let you relax the way you want and need, meaning endless international calls from the office to be expected during the trip. Plus, you urgently may need to book a table at the local restaurant, deal with delayed flights or an ATM disaster – each time only an international phone call may come to the rescue. Yolla is the best solution for all of this. All you need to make a call from abroad is an internet connection and some bucks on your Yolla balance. You can dial any number not even thinking whether the one you are about to call abroad to has or has not Yolla installed. Plus, our calling rates are so cheap that $4 will stay on your balance for several trips. And yes, your balance never burns out.
Be sure to install Yolla beforehand and top up. And when abroad, keep calm, avoid roaming fees and call!
Relax and Take It Easy
Remember: the first aim for any travel is being on holiday. Wholeheartedly, one-hundred-percent relaxed, constantly refreshing, absorbing new experience and cultures. Leave your problems and blue thoughts at home: you will think about your job back at the office, about your domestic routine back at home. Take as much as possible out of your holidays and feel yourself fresh new and alive – isn't that the point of traveling?