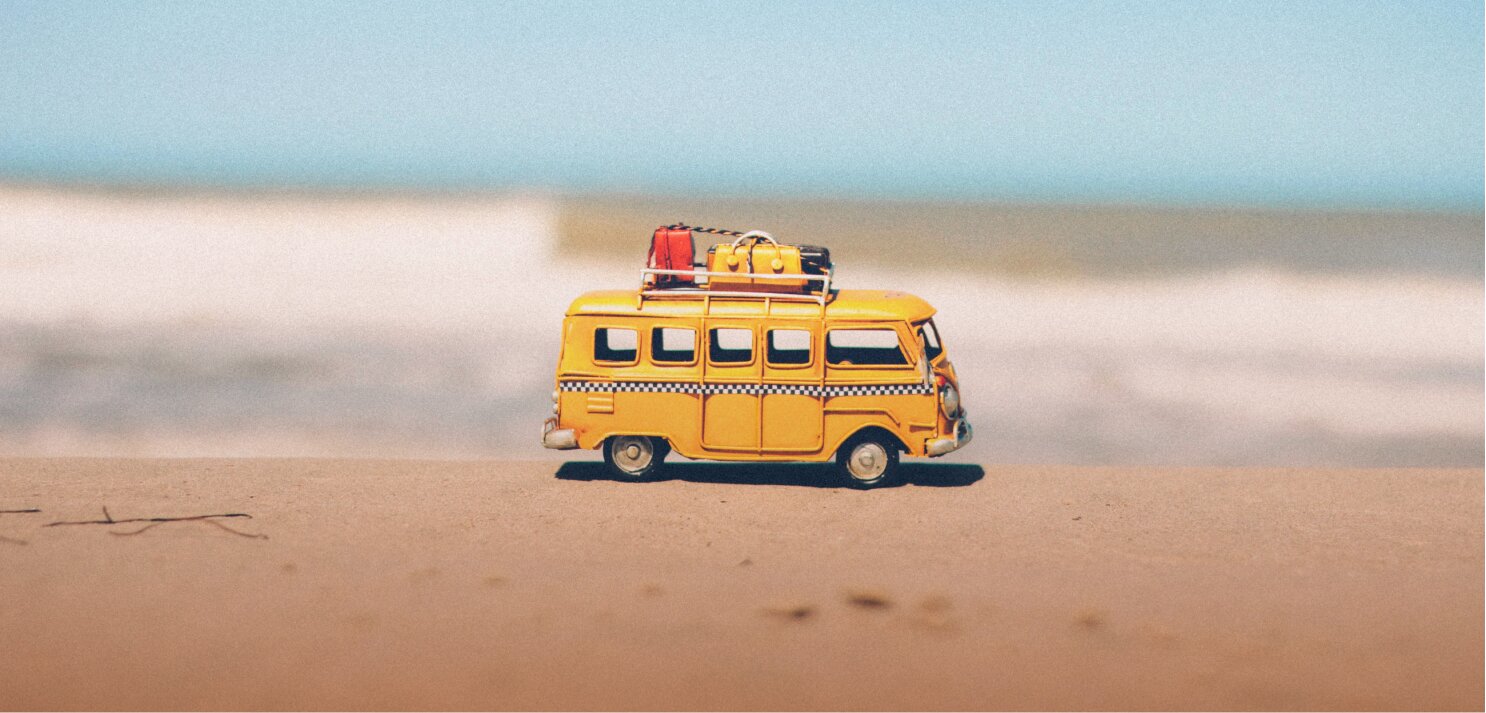 8 Travel Tips – How Not to Ruin Your Vacation Abroad
What's the best travel advice you've ever received? Are you looking for some travel tips? Since COVID-19 forced many of us inside, we've grown tired of sitting at home. However, travel restrictions are lifting and people are starting to travel again. We thought it was time to prepare a list of top travel tips, tricks and reminders to help you prepare as you get back into traveling the globe or plan your annual vacation. These are some of the best vacation tips that I have gathered over the years. They suit both experienced and first-time travelers alike.
Travel Tips For Every Traveller
When planning a trip, people usually feel one of two ways – low stress or overstressed. For some, the process of planning a vacation abroad feels stress-free and they don't feel the need to search for any travel tips. 
For others, it's overwhelming, scary and there's anxiety over being sure you've packed and planned everything: What have I forgotten? What problems am I not prepared for? What if my battery dies? Will I end up stranded on an island with no way to call my bank, mobile carrier or family? You go searching for some travel tips to help you out.
Whether you've traveled several continents and are planning the next one, or you've never left your country before, we all can generally benefit from the same travel tips. 
And since I can't seem to remember anything important in those high-pressure moments when I need to remember most (like when I'm packing for a trip), I've put together a list of traveling tips and tricks to help you get prepared and avoid major problems on your vacation. 
While there are more than 8 important thoughts to consider before going abroad, these 8 top travel tips will save you from some major headaches. 
You may still forget to print your boarding pass before you board your train, but these top travel tips will ensure your vacation won't be ruined (most railway companies these days send a digital boarding pass to your email anyway, so all you need is your phone!). 
Without further ado, here are my top vacation tips for people who want to travel. Let's begin! 
8 Top Travel Tips – Avoid These Mistakes on Your Vacation Abroad
Here are 8 top travel mistakes to avoid that can cause major headaches on your life-changing adventure, along with the top travel tips to help you avoid them:
1. Travel Tip – Remember to pack the essentials
This is a simple travel tip on what to pack. While simple, it could be a separate article in itself, because it's so important. This is why I've put it first on this traveling tips and tricks list. While I don't have any travel tips on what to pack exactly, here is some key advice. 
When you are packing for your trip, do a mental inventory of two things: 
Common situations you'll be in

What "things" you'll need in each situation
For example, if you're traveling with only a backpack by trains, busses or planes, imagine yourself on an overnight train – what will you need? 
Most overnight trains provide bed linens and a blanket. But, you'll want your phone charged, so pack a power bank (this will come in handy practically every day of your trip). 
You'll also want to be traveling with a backpack that can fit underneath the seat or in the overhead luggage storage (anywhere nearby you, to help ensure your belongings are safe). 
You may want to read a book. Depending on which country (countries) you are in, you'll need a translator app (again, useful for every day). 
Slippers. Simple luxuries like slippers turn out to be a key travel tip. If you're on an 8-hour train journey, slippers can be nice to walk around in, as opposed to your shoes – when you need to stretch your legs, walk to the bathroom, etc. (also useful when staying in hotels and hostels).
In general, think of situations you'll be in along the way and ask yourself what you'll need for each one. Come up with your own list of travel tips. Before sleeping, you'll need a toothbrush, toothpaste, towel and maybe a comb.
Do the same for the weather. What will you need to wear each day? Imagine every piece of clothing you'll need, from your toes to your head, for the weather you'll encounter – socks, extra socks, shoes, slippers, pants, shorts, t-shirt, sweater, etc.
2. Travel tips – Try not to overplan
This travel tip is second on my list, after "remember to pack the essentials", because it's counterproductive stressing about every detail of your trip, wondering if you forgot something important and if you're ready to go. 
Some things you forget can be bought on your trip – comb, towel, slippers, socks, even shoes or a power bank. 
Remembering these items merely saves you time, energy and the extra cost of buying them while on your trip. This can be a helpful travel tip to remember.
While I can't offer any tips on how to travel light, it's helpful to remember that there are a few essentials you can focus your attention on, and worry les.s about everything else. 
You can't buy the following things while abroad: your passport, driver's license, certain medications, medical appliances (mouth guards), contact lenses, glasses, and sometimes even an English-language book (depending on the country you're visiting, some have limited selections of English-language literature).
Be sure to pack the
essentials
and take
fifteen minutes
each day for a couple of days before you leave to ensure you've remembered everything you'll need. 
The day before your departure, double-check you have your essentials, read this list of travel tips one last time, let go of your worries, trust that you have everything you need and set off. Rest assured that you probably have everything you need and anything you've forgotten – you can buy when you get there.  
3. Travel tip – Stay within your budget
The third tip on the list is on how to travel and vacation on a cheap budget. It's easy to get ahead of ourselves when we're planning a trip. No one wants to end up in a hotel or hostel that doesn't feel safe, sanitary or comfortable. 
As a result, it's common for travelers to choose more expensive accommodation or travel options to ensure they'll be happy with their accommodation and how they're getting there. 
At the same time, going over budget can be stressful. Fortunately, there are some simple ways of checking what you're getting yourself into before choosing a hotel, train cabin class, tour or anything else. 
My first travel tip here is to read the reviews. If you're on a budget and you're using one of the online booking platforms like Airbnb or Booking, the best way to understand the standards and quality of an accommodation before booking it is by taking a few minutes of reading the reviews of each place you are considering. 
It seems no single place will please 100% of the guests that stay there. However, if an accommodation has a pattern of low reviews with different guests complaining about the same problem, it's likely the problem truly exists. 
It's likely the negative reviews aren't just the result of some guests who were having a bad day. If their complaints are about an issue that could bother you as well, take note. 
Remembering this travel tip can save you a major headache. Find a place that has a review score that you're comfortable with and reviews that seem reassuring.
Secondly, ask yourself what you need. Whether you are booking a rental car or your accommodation, ask yourself what you truly need to be comfortable. 
For vacationers staying in a hotel, you're likely spending a higher price on accommodation than those staying in hostels. There are many amenities to choose from (bed size, room size, whether the hotel has a pool, etc.). Choosing a simpler option can save you money without sacrificing comfort.
Or, consider renting an apartment or room from a booking platform like the ones I mentioned above. Renting from a local via a booking platform can often be cheaper and more comfortable than a hotel. Plus, you get to live amongst residents and get a taste of local life. 
4. Travel Tip – Have a way to call home
You may not be interested in nor worried about calling home while you're abroad. After all, with wifi and calling apps, it's practically free to connect with most people back home. But, not all. This travel tip is especially helpful for ensuring you can be in touch with absolutely everyone back home, if need be.
When you're in a foreign country, here are two problems you might face: 
Calling your

bank

,

mobile carrier

,

airline company

,

railway company

or any other business

Connecting with family members who don't have a calling app (or aren't familiar with them)
The second situation may not be an issue for you if you're gone for a week, or several weeks. You can always email.
For those traveling for longer periods, it may be important to be able to call home to grandma, or for other reasons, for cheap. 
There are many examples. You may have trouble withdrawing money from your card at a foreign ATM/bankomat, though this is very rare. It's more likely that you could lose your card or your bank could block it when it's used regularly in a foreign country. They may suspect it's been stolen. 
While you can contact your bank before you leave and let them know where you'll be traveling so they won't block your card, it can still happen, especially if you make large purchases abroad. 
There are several cases in which you need to contact a landline back home to sort out a banking, ticketing or any other issue. Many companies offer customer service via Facebook, Viber or other chat services, but in many cases, such a chat or wifi calling app doesn't suffice.
Picking the Right International Calling App
This is an important tip for when you travel. In this case, an international calling app is your answer. 
I don't mean a wifi calling app. I mean an app you use to call internationally, with your phone's usual number, to any mobile or landline in the world at rates as low as less-than-a-penny per minute. 
The old days of buying an international calling card, dialing a 15 digit number, following the teleprompts and paying high rates to connect with a family member back home or a friend abroad are gone.
Today, you can get an international calling app offering international calling rates to mobiles and landlines to any country in the world for pennies per minute.
For example, if you're on vacation in South Africa and you need to call your bank in the US, rates for calls to the US start at $.0.008/minute. What's more, they let you use your current number so the person you're calling sees your number on their screen, not a foreign one. 
It takes less than 5 minutes to set up. Just download the app, top up your balance, connect your phone number by receiving a confirmation code and then you're ready to call. 
You may be wondering if you can just simplify the whole process and use your mobile carrier's roaming plan. However, roaming rates can be enormous. 
For example, international roaming charges for US customers are, on average, $1.50 per minute and are often much higher, depending on the country you're visiting. A 15-minute phone call to your bank would cost $22.50, or more, depending on your roaming plan and the country you're visiting. 
It also raises the question of whether roaming is offered in the country (countries) you'll be visiting.
With Yolla, the same call would cost $0.12, with no contract and no commitments. You can pay as you go. This is a key travel tip on how to save money for travel. 
5. Travel tip – Disconnect from home/social media
This is one of the best travel tips and I've put it right after the above tip because the main point is to be able to connect to home when you need to, but not too much more.
Many travelers regret coming home from a vacation, realizing they never disconnected like they needed to.
It's important to stay in contact with loved ones, send photos to family back home, and make calls and share stories. However, while you're on vacation, give yourself the chance to take a break. Consider spending less time on your phone and more time in your environment, reflecting on your experiences. 
For most people, it can be difficult to step away from their messages, emails, comments, etc., These connections enrich our lives. A key part of this following this travel tip is to break the habit. If you can do this, you can really make the most of your vacation. 
6. Travel Tip – Avoid getting scammed
This one usually scares new travelers. Images of scary people roaming the isles of train cars ducking into cabins and running away with people's belongings are conjured up in our minds when we hear about the dangers of traveling and keeping our belongings safe.
Fortunately, the scene I've just described likely isn't what you'll experience when traveling. Theft often occurs discretely, like pickpocketing, or someone may pull something from your bag (or take your whole bag) while you sleep on the train. Often, there's no aggression involved. Though, no one can guarantee it. 
The key part of this travel tip is that common sense can save you from serious headaches. Try to follow a few basic guidelines:
Always keep track of your belongings
Never leave your luggage

or important items unattended (phones on bus seats, luggage at bus stations, hostels, etc.)

Don't show money

in public (when counting money try to do it discreetly)

Avoid dark, unpopulated streets at night (busy areas are usually safer, except that they are ripe for pickpocketers)
Never send anyone money outside of a secure portal until after you've received the service (i.e. if you're renting an apartment from a local, pay only after you've checked in. Pre-payments through booking sites like Booking and AirBnB are usually safe, if not they have complaints departments that can resolve such disputes if you've been scammed by a user)
7. Travel Tip – Don't let jet lag ruin your trip
If you're not traveling through several times zones, this won't apply to you. Enjoy waking up feeling fresh!
If you're traveling across several time zones, this is a surefire way of guaranteeing you feel like you've wasted your time on vacation, laying awake until 9 am and sleeping until 5 pm every day for two weeks. 
It's difficult to adjust to other time zones. You may feel like a zombie at 10 in the morning after you haven't slept all night and it's time to go sightseeing, have a walk or go swimming in the sea. 
While it may feel impossible, the key aspect of this travel tip and the fastest way to adjust and start enjoying your trip is to push through the exhaustion and live by the local time zone by the second day of your trip. No matter how little sleep you get the night before. 
This will ensure you can adjust more quickly and start enjoying your trip sooner. 
If you have an overnight flight before you arrive at your destination, try sleeping as little as possible on the plane. After you arrive, by the time night falls you'll be ready to sleep, regardless of what time it is back home.
8. Travel Tip – Don't following a plan too strictly
It's great to imagine how your trip will go, what you'll do and when you'll do everything. 
After all, it's really exciting to take a vacation.
But, many things can happen along the way that we can't predict, that interfere with our plans.
For example:
You disagree with your travel partner on what to do for the afternoon

You have to spend money on taxis because public transportation isn't reliable

You may even miss a flight and have to buy a new ticket
Here's a small travel tip: often, when something interferes with our plan, it can be more stressful trying to stick to the plan than to adjust and move forward with a new plan.  
This is common and it may help you to realize that it's not a bad sign if things aren't going according to the plan. 
It just means you may have overlooked some details when you were imagining how you'll spend your time abroad. Or, it means that something unexpected happened, which is always unavoidable. 
Learning to adjust your plan and go with the flow is sometimes an essential travel tip for ensuring you enjoy your vacation abroad.
Travel Tips – Final words
As long as you follow these travel tips and take a few simple steps before you go, you won't have much to think or stress about while on vacation:
Ensure you have your essentials

Use common sense while you're on your trip

Don't go over budget, if finances are a concern

Download an

international calling app

to make important calls home
The only thing left to do is let go of your worries, get a good night's rest and embark on your trip.
Happy travels!