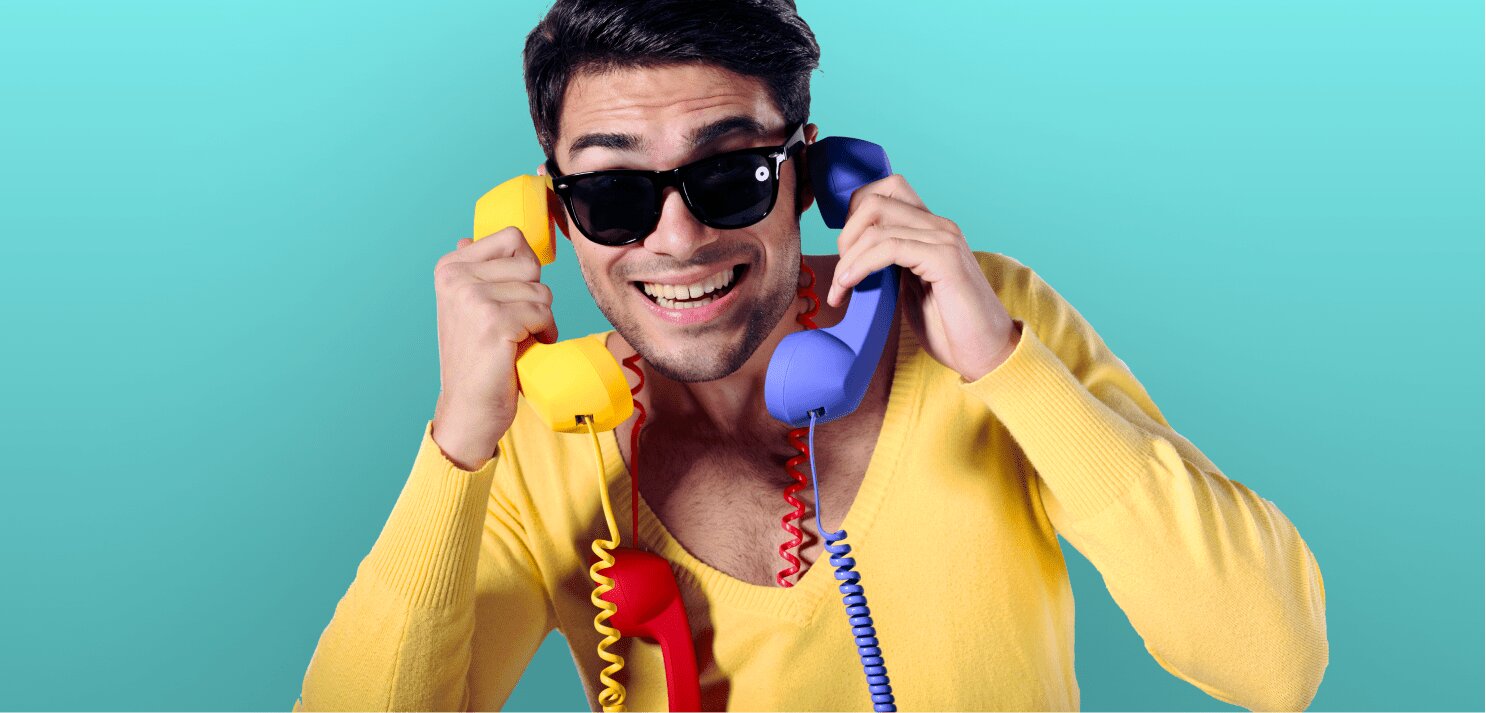 Yolla Customer Service – What questions can we answer?
We're Yolla Customer Service, and we'd love to hear from you. 
Whether you're curious about how to spend less and talk more, hear an echo in your calls, haven't received your verification code or you have another issue, the Yolla Customer Service team is ready to answer any question – 24 hours a day, 7 days a week. 
At Yolla Customer Service, we still believe in the mantra, 'the customer is always right'. And we don't just blindly believe it, without reason. 
Technology is weird. On rare occasions, it can behave in strange ways and we understand that you simply want to make free and cheap international calls and stay connected to your family and friends. 
That's why the Yolla Customer Service team resolves 100% of user issues with a 95% satisfaction rate. 
When needed, we compensate them financially – no questions asked, except in rare cases of fraud or abuse.
The Yolla Customer Service team is here for you the whole way:
You and your friend didn't receive your $3 referral bonus? 
It may be because your connection switched from LTE to WiFi during registration. It's almost impossible for you to know about such problems – so, we're happy to give you each $3. We owe it to you. 
Your call to your family in Azerbaijan won't connect? 
It seems that the problem is on side B. We made some routing changes and refunded you for the unsuccessful calls. Always happy to help!
Yolla Customer Service's primary goal is for you to stay connected with family and friends for free or at low rates, without interruption. This way, we're all one happy family.  
Any Question, Any time – Ask Yolla Customer Service
There is never any question or issue too strange or unique for the Yolla Customer Service Team to resolve. 
If you are experiencing a problem, then it's likely someone else has had the same problem at some point in time, too:
Switching devices but don't want to lose your balance?

Want to top up your friends balance?

Hearing an echo on calls?

Didn't receive your referral bonus?
The list goes on and on.
Consider some of these examples:
Calls Suddenly End Without Reason

:

A user encountered a problem: when they tried calling any number the

call was ended

without any error message. We couldn't find a problem on our end, so we suggested the client clear their cache and app data. It worked!

Topping Up a Friend's Balance

:

A new user wanted to top up the balance on their mom's phone, in Cameroon. With Yolla, you can top-up friends' Yolla accounts if they don't have a card or PayPal. 

Find them in your contact list.

Click "Top-up for a friend" and top up your account as usual.

Echo in Calls

: A user wrote to us that he was constantly hearing an

echo

during calls. Our tech team identified the problem and

removed a supplier

from the call chain. The connection cleared up and for the inconvenience, the user received a refill

bonus

!

Topping Up Without a Credit Card

: An Android user wrote to us, asking how to top up his balance without a credit card connected to his account. 

There are two ways to do this:

Android (Mobile Phone Billing): Google Play app > My Account > Add payment method > Enable 'your carrier' billing.
Apple iOS

: users can set up an alternate

payment method supported by Apple

– PayPal, Alipay, UnionPay, and mobile phone billing.

Calls Not Going Through: Our user visited Mexico and couldn't reach a friend back home. He wrote to us and we found out that in all of the excitement, he tried to dial the number via his phone keypad, instead of inside Yolla. We sent him a screenshot with instructions and everything worked!
App Not Working on WiFi

: Our user couldn't access our app via his home WiFi. At the same time, it worked via mobile internet. In such cases, we suggest clearing your cache and all Yolla app data. We gave him instructions and now it works perfectly.
As we mentioned, technology is weird. There's no situation too unique or strange and there's nothing the Yolla Customer Support team can't dig into and find a solution for. 
Contact Yolla Customer Service Today
Please feel free to check our FAQ page or contact us directly.
If you're facing a problem with Yolla today, have a look at our detailed FAQ page with answers to very specific questions, including:
Which calls are free?

All Yolla-to-Yolla calls are FREE (it's also really easy to

earn free calls

to mobiles and landlines (international or domestic)).

I didn't get my verification code:

Did you check your phone number format? Be sure you enter it like this: +965 123 45 678. If the verification code still doesn't arrive, VoIP services may be blocked in your region.

How can I get FREE credits?

Tap

Get Free Credits

in the Yolla app (side menu on Android; Gift button on iOS) to invite friends, check reward campaign rules, and see the bonuses you can receive.

If I get a new device, will my Yolla credits transfer to the new device?

Yes. Just sign in with your old phone number on your new device. Be sure you have your old SIM card installed in the new device, or that your old device with your old SIM card is nearby to receive the confirmation code. 

Please note, there's a limit on the number of devices per account – contact Yolla Customer Service if you think you've reached your limit.
How can I enable/disable auto-top up?

You can turn auto-top on or off anytime in the app in

Payment Settings

or on the Yolla website in

My Balance

.

Does Yolla see my bank number?

No. Yolla does not store card details. All card info is safely protected by the payment processing system.

How can I spend less and talk more?

You can purchase credits on the

Yolla website

and save up to 30% (depending on your country) and avoid paying the Google Play or App Store fee

.
And many more! 
If you're experiencing a problem with the Yolla app and can't find a solution on our FAQ page, don't hesitate to contact us immediately. One of our Yolla Customer Service team members will get back to you right away.
We look forward to solving your problems with the Yolla app and getting you back to connecting with friends and family.