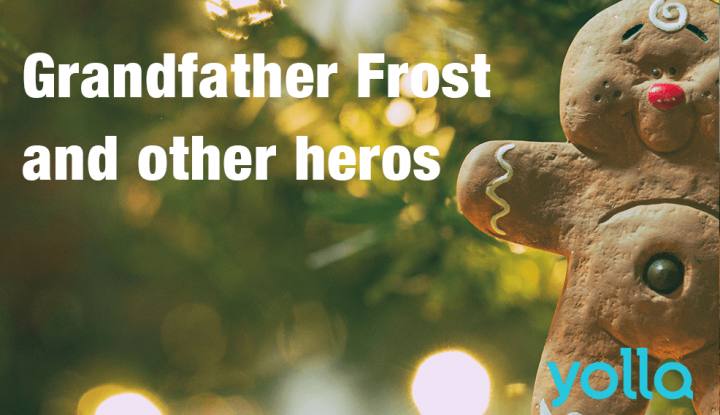 Winter Heroes: Call abroad to friends to know more
Starting from the late November here comes the time of holidays, presents, sparkles everywhere and champagne/mulled wine all the time. And as shops and streets are turning into Christmas mode extremely fast, we start seeing Santa's traces all around.
Today, on the 18th of November, probably one of the most famous Russian characters – Ded Moroz – celebrates his birthday! Let's leave alone Santa Claus who is famous all over the world for a minute (although we bet we can surprise you with his story as well). Each country has its own winter hero. Isn't a birthday of one of them a great occasion to get to know some other snowy guys?
Ded Moroz
Birthday boy, Grandfather Frost, in Russia is called Ded Moroz. He's a Russian version of Santa Claus with his own charm and charisma. No one knows how old he is. Since the pagan times people used to believe in a god of cold called Treskun who gave presents to children that behaved well, was empowered to melt ice and performed some other magic. Maybe he's the prototype of all the Clauses worldwide!
And his birthday means that winter has come as close as possible – that's why we've decided to shed some light on other icy characters as well. Anyway, he comes each year with his granddaughter Snegurochka (Snow Girl), plays with children and gives sweets and presents.
Pro tip: Make cheap calls to Russia to your international friends to learn about Ded Moroz from them!
Mikulas/Miklavž from Czech Republic
This character comes to children in Czech Republic each year in the beginning of December. He has two companions – Angel and Devil – who decide whether a child has behaved good or bad and therefore deserves sweets or potatoes (that's right, potatoes).
Pro tip: Make cheap calls to Czech Republic to your international friends to learn about Mikulas from them!
La Befana from Italy
Probably, the only woman among characters of New Year season is an Italian fairy La Befana. She goes from home to home on the night of 6th of January, looks like an old lady with large teeth wearing black dresses. She's carrying two bags full of presents and coal. People believe she's travelling using stars!
Pro tip: Make cheap calls to Italy to your international friends to learn about La Befana from them!
Jólasveinarnir from Iceland
Jjólasveinarnir have nothing to do with Santa Claus or anyone else in the world connected to Christmas and New Year. They are 13 gnomes from Iceland, children of mother Grýla and father Leppalúði, which are the scariest characters of Christmas. Legend says these gnomes go down from mountains on the 12th of December and spend two weeks visiting children, giving presents and eating families' food (which is by the way illegal). You should know that some people believe it's their mother who made Eyjafjallajökull erupt a couple of years ago.  
Pro tip: Make cheap calls to Iceland to your international friends to learn about Jólasveinarnir from them!
Shen Dan Lao Ren from China
In China they call a guy bringing presents on New Year's Eve Shen Dan Lao Ren. He's probably the busiest of our heroes, as there are a lot of children in China. He's supposed to go from child to child and give them envelopes with money (nice, right?). He wears red clothes and travels on a donkey.
Pro tip: Make cheap calls to China to your international friends to learn about Shen Dan Lao Ren from them!
Jouluvana from Estonia
And the last but not the least, our very own national hero – Jouluvana who is Estonian version of Santa Claus. He looks very similar to his older brother, Finnish Joulupukki, which literally means "Christmas goat". He has come to us from Norse mythology and used to accompany Thor on the Wild Hunt sporting tight red leather pants and a matching coat. Later this was changed to warm red robes trimmed with a band of blue near the fur. But unlike their American relative Joulupukki and Jouluvana travel with non-flying reindeer, enter the house through the door and ask kids to sing Christmas songs or recite poems in exchange for presents.
Pro tip: Make cheap calls to Estonia to your international friends to learn about Jouluvana from them!
Santa Claus
Are you ready for the biggest exposure of the century? We are sorry to say that but Santa Claus is not the one he pretends to be. His story began in 1881 from Clement Clark Moore's "Twas the Night Before Christmas". It was the first time in modern history when someone mentioned Saint Nicolaus as a man giving presents before Christmas. However, he wouldn't become this famous and popular if not for…Coca-Cola. Due to some legal issues Coca-Cola had to stop its brand positioning as a drink for children. Therefore, they were forced to create a character to become a connection between children and Coca-Cola. The choice fell on Santa Claus. Children's hero was drawn after a neighbour of a company's designer and is nothing but the greatest marketing campaign of all time. Nowadays no one can disconnect Santa Claus from Coca-Cola and, consequently, Coke from Christmas (Just for the record, half of our team was devastated by this information. Sorry if you're feeling bad too).
Pro tip: Call abroad to your friends in USA, Canada, Australia or any other country that has Santa Claus as their Winter Here and tell them about this discovery!
There are many more New Year characters around the world. To learn more you just need to call abroad to your friends – using Yolla, of course – and ask them about their traditions.
Who knows, maybe the more heroes you know, the more presents you may get on New Year's eve!