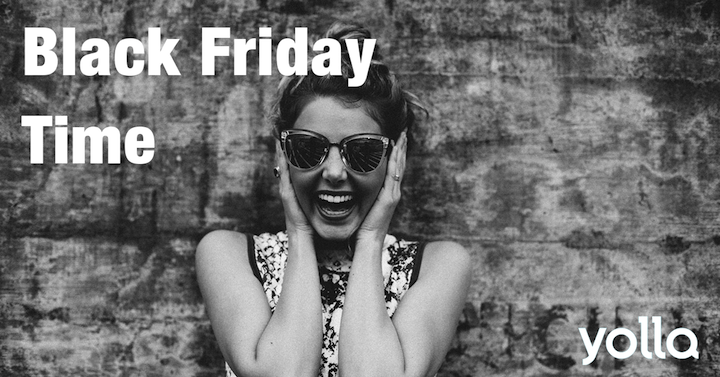 Get your BLACK FRIDAY bonus for international top up!
Black Friday is coming, and we are excited to announce that Yolla takes part in Black Friday Fun*!
As Yolla is a great app for sharing emotions with people who are far-far away, we decided for this Black Friday to add extra 10% from the next payment for your extra-talking! The holiday season is ahead, and we know that you will love the opportunity to talk with your friends and family a little bit more. 
To get extra 10% from your next Yolla top-up, go to one of our social accounts (Facebook, Twitter, Instagram ), share Black Friday post, copy the link and send it to our support team right after the next international calls top up. We will add extra 10% to your balance!
Bear in mind, that you need to make repost during the week before Black Friday (17.11 – 25.11) but can top up and use the bonus till 30.11.2016.
 *The reward campaign is valid from 17.11.2016 till 30.11.2016.
To get the bonus users need to share Black Friday post from one of Yolla's social accounts – on Facebook, Instagram and Twitter in the period from 17.11.2016 to 25.11.2016. After that in period up to 30.11.2016 they are supposed to top up their Yolla accounts, and after that send the link to a shared post to support team inside the Yolla app. During the next 24 hours since support gets the link and checks if it's correct and the post is still available users will get additional 10% of the last payment as a bonus.
We reserve the right to issue refunds or credits at our sole discretion. If we issue a refund or credit, we are under no obligation to issue the same or similar refund in the future.
Yolla reserves the right to refuse a refund or bonus request if it reasonably believes that you are trying to unfairly exploit this policy, for example, by making repetitive requests in respect of the same product or feature; by creating multiple Yolla accounts; if you are in breach of the Terms; or if Yolla reasonably suspects that you are using any of our products fraudulently or that your user account is being used by a third party fraudulently.
All free credits received by users during the campaign are for their personal use in the Yolla applications and services only. These credits are non-refundable, non-transferable and can't be converted into money.
Yolla may withdraw free credits that have not been used by users within a period of 30 days after the issuance date.
Yolla reserves the right to stop the campaign at any time and for any reason, at Yolla's sole discretion.