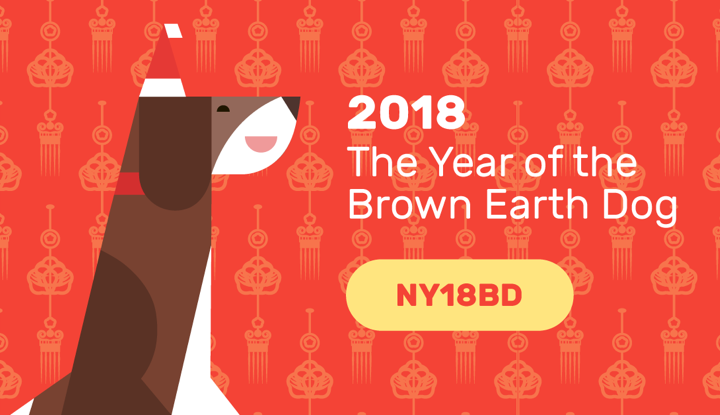 Year of Brown Earth Dog: Call Abroad for Cheap!
Ho-ho-ho! It's the 1st of December, meaning main holidays of the year – Christmas in the Catholic world and New Year's Eve – are coming. Either children or adults are equally waiting for this magical time as everyone deep inside believes that some miracles are about to happen in the late December.
People start getting carried away (right now, actually) buying proper presents for the whole family, planing on food and beverages for the nights.
Want to congratulate your friends and family abroad? Call abroad for cheap with Yolla!
To make the process of holiday fuss simpler, there is a special hint from an Asian part of the world. It's widely known that in China and some other Asian countries there is another date for the New Year celebrations, based on the lunar new year. They say, each year symbolizes a new epoch, connected to Chinese horoscope: rat, ox, tiger, rabbit, dragon, snake, horse, sheep, monkey, rooster, dog and pig. People make predictions based on individual horoscopes for the whole year. There are also some rules and traditions on how to celebrate each New Year's Eve so that the whole year would be prosperous and lucky for you. Same traditions go along with presents. Depending on the Chinese horoscope, you can buy presents which bring so much more to the person than just a present itself.
It doesn't matter whether you are a part of Chinese or other Asian culture or not, making thoughtful presents for the upcoming New Year 2018 would be a great way to show that you really care. And if you want to say a few nice words to your family or friends living abroad, you can always call abroad for cheap with Yolla!
The 2018 year of the Chinese zodiac is the year of a Brown Earth Dog. It can be described by one word: ACTION! It's going to be a successful and good year yet a bit exhausting. Work hard, play hard – the motto for 2018!
To improve your luck and buy literally magical presents, choose something for sports or hobbies so that a person will take action in self-development and gets extra motivation. You can also buy something for the home coziness. Generally, for the upcoming New Year, it's better to choose classics instead of state-of-the-art gifts, whatever it is. And in case you don't have any ideas, it'll be just perfect to buy someone…a dog! The symbol of the New Year 2018 will make an owner the luckiest person in the world. And the happiest one too – as dogs are meant to bring happiness all year round.
In Yolla, we also have a present for our beloved users! From now on and until the 2d of January 2018, you may get extra $2 with your payment using NY18BD* promo code! Just type it in before making a payment and get your holiday gift. Call abroad for cheap with Yolla!
*May be used once only.