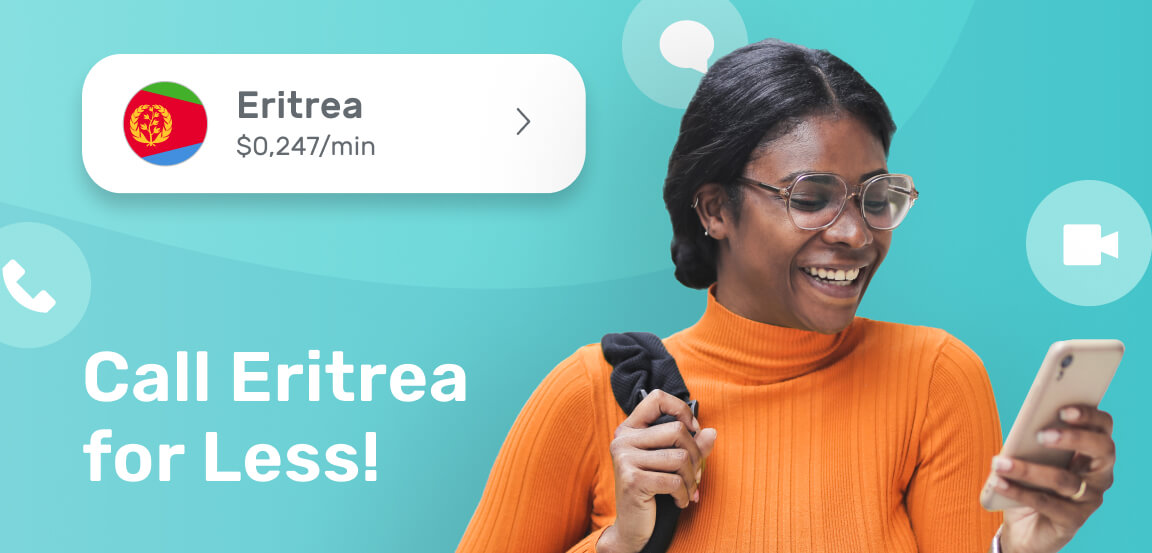 How to Call Eritrea from the US and Other Countries
Trying to reach your family and friends back in Eritrea but don't want to spend much? With Yolla, you can call for cheap or even free from anywhere in the world using a simple app.
International Calls to Eritrea: All About Codes
Making calls to Eritrea from the United States, Canada and any other country is easy using Yolla. Just make sure to enter the number in the international format – the same as when making a call via landline: your country's exit code + country code + area code + phone number.
The last part in this format is self-explanatory, but what about the rest?
Exit Code
This is a unique sequence of numbers used to distinguish local calls from international ones. It's dialed at the very beginning, before the phone number you're trying to reach. It simply tells your phone service provider that this call must be routed internationally. 
For example, the US and Canada share the exit code "011", while "00" is used in Germany and Saudi Arabia. Pretty simple, right? Most codes consist of zeros and ones. However, the combinations may differ, so we recommend looking up your country's code by simply Googling it to make sure you dial it correctly.
Be aware that with many international calling apps, including Yolla, you don't have to include this code to make a call. Just dial the number starting with the country code.
Country Code
+291 is the country calling code that is used to call Eritrea. As long as you dial the phone number in the international format with the Eritrean country code, you can call anyone in Eritrea.
You can check the country codes of any country you want on the International Country Codes page.
Area Code
The area code is the part of the number that, naturally, indicates what area in the whole country you're trying to reach. It can be a city, a town or another specific region. If the mobile number you're calling starts with a group of numbers in parentheses, this is most likely the area code.
For example, the area code of the capital of Eritrea, Asmara, is 1.
Calling Eritrea with Yolla – Cheap Rates, High-Quality Connection and More
No matter where you're calling from, Yolla's rates are always the same. You can make cheap calls from anywhere in the world, and the rate you pay won't change. You can check Yolla's exact calling rates to Eritrea here.
Yolla's low rates on international calls is just one of many advantages.
The app provides lag-free, stable and high-quality calls. We care deeply about our users, so our customer support is available 24/7 for any question you may have.
One of Yolla's signature features is that you can keep your phone number – anyone you call will know it's you! Having your original phone number displayed is very important, especially when you have to call your bank from another country.
There are many calling apps that allow you to call and message people practically anywhere, but making phone calls to devices that don't have their app installed is not an option for most of these apps. With Yolla, you can call anyone directly, from anywhere, regardless of wether their phone is mobile or landline or has Yolla installed. This makes Yolla a reliable calling app for lots of people.
How to Make Free Calls to Eritrea
Using the format we've shared above, you can make both paid calls and free calls with Yolla. In both cases, you will be charged using credit from your balance. There's just one difference – whether the Yolla credit was a gift or a purchase.
Purchasing credits is easy. Simply top-up your balance via the "Add credits" button in the Profile main menu. Since the cost of call is already low, you won't need much.
However, you can also earn free Yolla calling credits. You can then use them to contact any country in the world, including Eritrea.
If you're interested in making free calls, or interested in any other country for that matter, you can check our detailed guide to free Yolla calls here. But here's the quick rundown – you can earn credits in the following three ways:
Affiliate Program – share the Yolla app with friends so you can both earn credits;
Testing Program (Android only) – receive test calls and SMS from our developers (you don't even need to answer them!) and get rewards;
Promo codes – we often share them on our social media accounts or via in-app notifications, so make sure to subscribe to us if you don't want to miss out!
Download Yolla and Make Cheap Calls
Everyone should have the opportunity to stay connected with friends, family and colleagues, no matter where they are. So, if you want to call Eritrea from anywhere in the world, feel free to use our app.
Download Yolla and call Eritrea for cheap or free today.