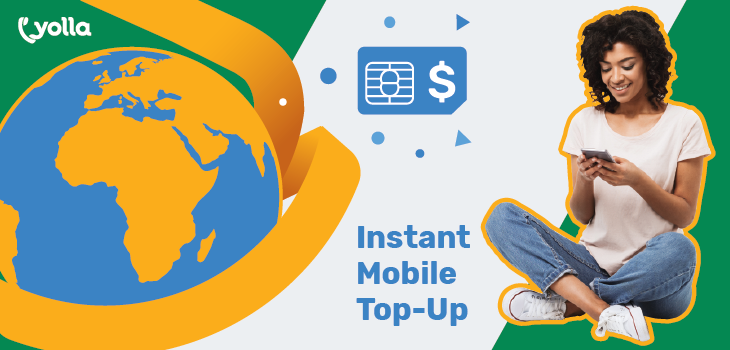 Being a customer-friendly company, we see the needs of our clients and understand that people living abroad want to support their loved ones back home.
Without further ado, we present you international mobile top-ups.
Now in Yolla, you can easily send phone credits to almost any number in the world. We support 500+ operators in 145+ countries, and are looking forward to expand our top-up coverage in the future. Mobile top-up us currently available only in the USA, Canada, Australia, New Zealand and Russia.
Here some of the reasons why you should recharge mobiles with Yolla:
It is a simple mobile top-up as it is. You just enter the phone number, select the amount and send money directly to the phone account. Be it your own number, a local number or a number in another country, the process stays the same. Nothing complex here.
Low commission. We have carefully studied the market and are ready to offer the lowest fees possible. They are so low, you won't even feel them.
No hidden charges. In Yolla, we value honesty with our customers in the first place and don't charge anything extra behind your backs. You always see the final cost on the screen. You see the sum – you pay that exact sum. No tricks.
Fast and user friendly interface. No digging deep into the app trying to find the feature you want. You can instantly top up mobiles right from the home screen in just several clicks. To make things even clearer, we are giving a guide with screenshots, so there's zero chance you have troubles with recharging mobiles. You'll find the guide later down in the article.
All features in a single app. Some multi-feature providers have separate apps for calls, for top-ups, for some other stuff, you name it. Unlike them, we understand that each new app takes space on your smartphone and that is why we are adding mobile recharge feature directly in Yolla. No need to download 2 separate apps and clutter phone storage. Just get or update Yolla and that's it.
The type of the mobile plan does not matter. Whatever tariff you want to recharge, we will take care of it.
How to top up mobile phone with Yolla:
Download or update Yolla to the latest version. Get Yolla for Android or for iOS.
Tap on "Mobile Top-up" on iOS or "Send mobile top up" on Android

Choose a contact from your list or enter a phone number you want to recharge

Select the carrier and the amount to send

Choose "Pay by card", enter bank card details and then tap "Pay"

And that's how it's done.
Other mobile top up features worth learning about:
Safe and secure payments with VISA or Mastercard
500+ operators in 145+ countries supported
Cheap international calls as a bonus