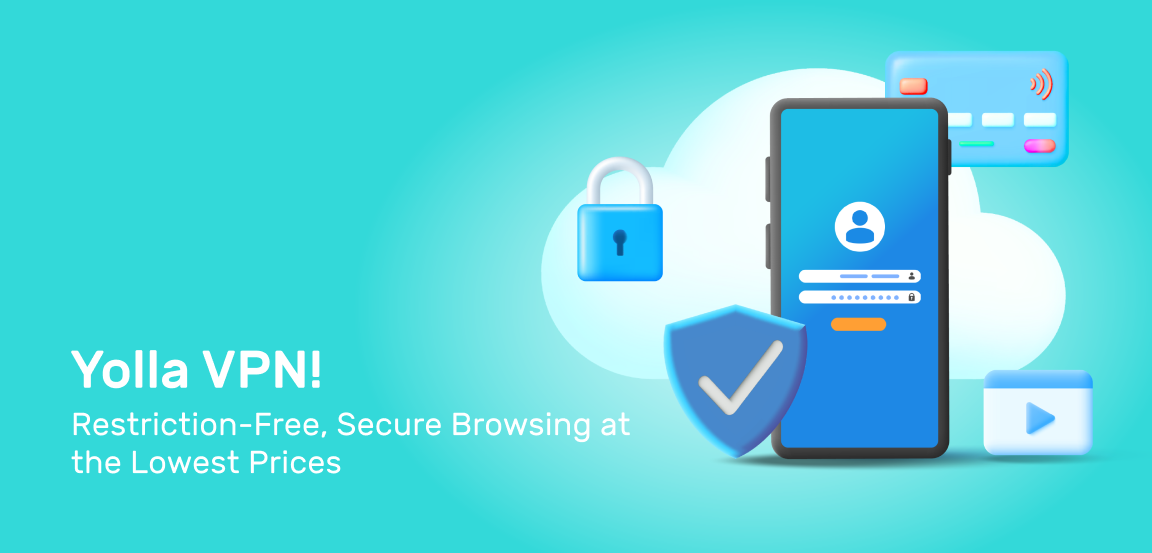 Yolla VPN – Restriction-free, Secure, Affordable
The Yolla VPN is now live! And the best part is that it's available right inside the Yolla app. That's right, if you already have the Yolla app, then you have the Yolla VPN too! You don't need to download any other apps or extensions. Just update Yolla (or download it), tap Settings inside the app, swipe down to 'VPN' and follow the prompts. You'll be on your way to safe, secure, encrypted browsing with the best VPN features available today! 
If you don't know what a VPN is, here's a quick definition.
What is a VPN?
A
virtual private network
(
VPN
) extends a private network over a public network, allowing users to send and receive data through the public network with complete anonymity, as if their devices were directly connected to the private network.
While this involves some technical processes behind the scenes, all it means for you is that, when activated, you can browse the internet and use other apps completely anonymously. No one can view or track your online activity, including the VPN provider (however, this does depend on your VPN provider – it's worth checking their Privacy Policy before using any VPN service). 
This includes web pages visited, your physical location or any other data you send or receive online. It turns out, there are many situations in which this can be useful:
Accessing your bank's website from abroad
protecting your sensitive information while on public wifi
getting unbiased search results
And much more. 
Now, there are so many top VPN services out there to choose from, so instead of creating another comparison list, we'll just highlight the features that make Yolla the best VPN and set it apart from the others. 
For example, its uncompromised security and enormous list of 55+ countries to choose from for setting your virtual location.
Yolla VPN Features
Here are the features that make Yolla the best VPN in the eyes of many of our users.
Worldwide accessibility

– available in every country where VPNs are legal

Zero-log Policy

–

We guarantee a

zero-log

policy – even as a VPN service provider, Yolla cannot log your online activity

Mobile and Desktop compatible

– For mobile devices and desktops/laptops (see

pro tip

below)

Security

– Fully secure, reliable and anonymous internet connection (neither Yolla nor any third party can access your data)

Compatibility

–  Best VPN for iPhone and Android (to ensure seamless access from different devices, be sure to always sign in to Yolla via the account you used to enable the VPN subscription)

Low cost

– from $2.99 to $8.99 per month (depending on the plan), the Yolla VPN offers some of the lowest VPN rates available, without compromising quality
With the Yolla VPN, you can rely on a new level of safety and security for your internet use. It doesn't matter if you're searching for the best VPN service for Mac, PC, mobile or desktop. Yolla is reliable, simple to use and compatible with all popular devices.
In case you're interested in using the Yolla VPN on your Mac or PC, here's a quick pro-tip on setting it up (if not, just skip to the next section).
Setting Up the Yolla VPN on Your Mac or PC
Basically, all you need is to upload a configuration file for the OpenVPN app to your computer and get your credentials.
A few things to note:
You can get your credentials (login & password) by contacting support (either in-app or by

email

) 

You can also get the necessary configuration files mentioned below for OpenVPN and Tunnelblick by contacting support
Setting Up Yolla VPN on a Mac (via Tunnelblick)
Download and installTunnelBlick
Launch TunnelBlick (a light gray tunnel icon will appear at the top of the control panel)
Save the configuration files you received from support to your computer (.ovpn files from the TCP folder)
Drag them one by one to the TunnelBlick icon in the control panel (the two-character ISO code of the country in which the server is located is encrypted in the file name)
After adding all the configs, you can select them by left-clicking on the TunnelBlick icon, and choosing the one you need to connect to
Enter your login and password (see above)
Setting Up Yolla VPN on PC (OpenVPN program)
Download and install the

OpenVPN program

 

Save the configuration files you received from support to the folder where you installed OpenVPN (.ovpn files from the TCP folder)

Right-click on the OpenVPN icon and select the desired server to connect to 

The two-character ISO code of the country in which the server is located is encrypted in the file name

Enter your login and password (see above)
So, when might you need a VPN?
When to Use a VPN – Public WiFi, Accessing important sites, and much more
If you're new to VPNs, then you may be wondering when you would need to use one. If you have one of the best VPNs, then you can rest assured that you're covered when you need it. There are several situations where accessing the internet anonymously can be of use. 
One of the most common examples is when you need to access important websites (commercial, government, etc.) but can't because, for example, you're abroad and access is limited for people in your location.
1. When accessing important websites from abroad (ie. your home bank, video streaming services, etc.) 
Several years ago, we assumed borders would continue opening up and different regions of the world would become more connected. It turns out that physical and digital borders are becoming more restricted in some areas of the world, presenting challenges for many people who need access to commercial or government websites (bank accounts, etc.).
By using a VPN, you can connect to the internet via "another location" (the VPN changes your "virtual location" detected by websites), and access important government and commercial sites that you otherwise couldn't, for example, while living abroad.
Here's a story from one of our users who moved abroad and used the Yolla VPN to access his bank account back home: 
"I have parents in Nigeria who I used to help out. But once I moved to the USA I couldn't log in to my Nigerian account. For some time now, I've been using Yolla to make free calls back home and I recently went to top up my account to call the bank, but had some troubles. After contacting Yolla support and fixing the issue, they told me about their VPN. I used it to connect via Nigeria and was able to transfer money to the family as I'd done at home. 
And with the same VPN, I can watch the Netflix Nigeria that I'm used to. I admit I'm a fan of TV shows and Nollywood movies 🙂 And it's great that the service is secure because Nigeria has strict internet laws. Thanks for helping me out!"
With the best VPN, you can rest assured that you'll have access to the websites you need to, despite being far from home.
2. When using public WiFi
Imagine you're in a public space (cafe, library) and you don't want to use your cellular data for any reason or you're in a foreign country and you don't have roaming enabled. You'll have to connect to public WiFi. 
Public WiFi connections aren't always secure. It's even possible for fraudsters to steal sensitive information from transactions made online that carry such details. You can turn on your VPN to encrypt the connection. Only the best VPN, like Yolla, can provide guaranteed security in these situations.
This is especially useful even when you're not using your phone, since various apps can automatically download data from the internet while you're phone is locked (ie. your email app regularly downloads new emails).
3. And Many More
People also use VPNs to block malware, get unbiased search results and much more. There are many different use-cases for this technology.
The right VPN can be a goldmine. And at the very least, it ensures you have a secure connection to the internet, no matter where you are (as long as you're in a country in which VPN services are legal). 
With the wide range of VPNs available today, many people ask, "What's the best VPN?". The best VPN should guarantee a secure service. While most of them are reliable, it's not uncommon that the VPN provider doesn't fully encrypt your connection. The best VPN can save you from some surprises and inconveniences.  
What is the Best VPN? And Why Should You Trust Yolla?
Many people ask, what is the best VPN for iPhone? what is the best VPN for Android? The best VPN isn't difficult to come by. It's really quite simple, and many VPN apps are compatible with both operating systems. 
As I stated above, its encryption and security capabilities must be 100% robust and reliable. Still, some VPNs come with useful perks and the prices vary from one to the next. The best VPN will mostly balance reliability with cost and highly useful extra features.
With Yolla, you're guaranteed that your online connection is fully secured via AES 256-bit encryption and that no third party, including Yolla, can collect data transferred via your phone through your connection when the VPN is active. Additionally, the Yolla VPN service charges some of the lowest rates on the market. 
By combining security with affordable pricing, cheap international calls and international mobile top-ups, the all-in-one Yolla app is one of the best VPN apps available today.
Browse Safely With Yolla VPN Today
Firstly, the Yolla app is a wifi calling app for making cheap (and sometimes free) international calls and texts. You can call any mobile or landline at low rates that are the same no matter which country you call from. 
You can also share the app with friends, get top-up promo codes and join our testing programs to get free credits for making the same calls and texts for absolutely free.
But the useful features don't stop there. You can also send international mobile top-ups with the Yolla app and we've tested a money transfer feature as well, both of which have been well received by our users. 
Now, with Yolla you can enjoy one of the best VPN services available with the same in-app convenience of Yolla's other features. 
Just head over to the App Store or Google Play today, download or update the app and you'll be on your way to secure browsing via one of the best VPNs available. That's it!
Use Yolla as your all-in-one VPN and cheap international calling app.
Happy browsing!