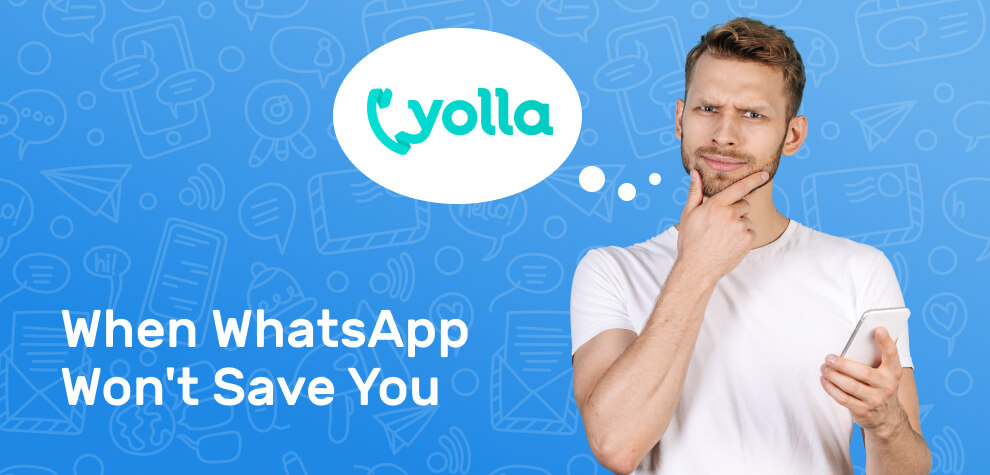 Here's the problem with WhatsApp – Advantages and Disadvantages of WhatsApp
I work at Yolla, and here's my heart crying out. Yolla is an app designed for international calls. Nothing to hide: when people hear about Yolla for the first time, the following response in 80% of cases is, "Why should I try Yolla for international calls when I have WhatsApp or Viber?". Well, that's a point in some cases. It's also a key question. It turns out that there are some key disadvantages of WhatsApp.
Despite how revolutionary this app is, there are some major problems with it. There is one reason, especially, why you shouldn't use WhatsApp.
Firstly, for those of you who haven't used WhatsApp yet, here's a brief explanation of what it is and how it works. Then we'll answer the most important question, "What are the disadvantages of using WhatsApp?".
What is WhatsApp?
What is WhatsApp? WhatsApp is a wifi calling app that lets you send and receive messages and calls app-to-app via the internet. The app is free to download and the only cost of using it is what you pay for internet access. 
How Does WhatsApp Work?
How does WhatsApp work? WhatsApp is one of the many apps that use VoIP technology to allow people to text and call via the internet instead of using a traditional cellular network. 
The benefits of WhatsApp are as follows: because it uses the internet, anytime you have a connection, you can call or text anyone with WhatsApp for free, anywhere in the world. For example, if your hotel or restaurant has free wifi, then you're in luck! 
The advantages of WhatsApp are obvious. That's pretty simple. But there are downsides to WhatsApp too. So, what could the disadvantages of WhatsApp possibly be?
HERE'S THE BIGGEST DISADVANTAGE OF WHATSAPP
Before listing the 5 disadvantages of WhatsApp, we want to cover the biggest one:
With WhatsApp, you can't call
landlines
and
mobiles
that don't have WhatsApp installed
This is the main reason why you shouldn't use WhatsApp.
T

he other 5 disadvantages of WhatsApp include:

Having to share your number with those you want to text with (unlike other apps with usernames)
Storage consumption
Image transfer limit
No remote log out if your phone is stolen and others
Privacy: Anyone can see your personal details and status if they have your number (unless you turn off this access in settings)
While these aren't so serious, not being able to call a mobile or landline could leave you stranded, which can be a headache, at the least.
For example, what if your card gets blocked while you're abroad and you need to call your bank? What if you need to call your airline to rebook your flight? Or if you need to make an emergency call to a relative or friend back home? 
Fortunately, there's an app that lets you make the same free app-to-app calls as WhatsApp, plus it lets you call any landline or mobile anywhere in the world. 
Does it really matter? (Disadvantages of WhatsApp)
Realistically, almost everyone on your contact list has a smartphone with some apps installed. So you can probably call everyone for free – in theory. I agree with that.
But here's the thing.
Remember the last time you needed to call a hotel receptionist when you arrived after hours? Or when you needed to call your bank or the airline? What about your grandma, does she have a smartphone?
OK, you get it.
These situations occasionally happen to everyone. And unfortunately, the WhatsApp advantages won't save you in these situations. This is the key disadvantage of WhatsApp. So what can you do?
Try Yolla. 
Disadvantages of WhatsApp – SOLVED
With Yolla, you can make free app-to-app calls just like with WhatsApp, but without the disadvantage of WhatsApp – you can call any phone anywhere in the world at a fraction of your carrier's roaming fees. While the calls do cost something, the rates are so low you won't even notice them.
For example, calls to the US are only $0.008/min from anywhere in the world. 
If you talked for an hour to the USA, it would only cost $0.48. 
What's more, you can also call for free with Yolla.
Call for Free With Yolla
By joining the referral program or the Android testing program, you can earn free credits to call anywhere in the world at no cost.
Yolla Referral Program – Disadvantages of WhatsApp SOLVED
With Yolla's referral program, you can earn $3 for every friend that downloads the app with your link. 
As soon as your friend tops up their account, both of you will see $3 appear in your balance. 
$3 is worth 6+ hours of calling to the USA. Or 4 hours to India. You can compare all of our rates here.
If you're an Android user, there's another way to earn free credit. 
Android Testing Program from Yolla – Disadvantages of WhatsApp SOLVED
Android users can earn free credit for doing almost nothing. By signing up for our testing program, you'll receive random test calls and test SMS messages and get a small credit for each one. 
Don't worry, the calls and messages are few and far between, and you don't need to answer or respond. Just let them arrive and get your free credit. You can delete them if you want. 
Here's how to sign up:
Tap

Get Free Credits

Tap

Testing Program

Enable the tests you want to join
If you're still not convinced about Yolla, check out this real story from one of our users. The disadvantages of WhatsApp would have left this traveler cut off from his colleagues on a business trip. Thankfully, he had Yolla.
When Roaming is Cut Off – The disadvantages of WhatsApp
"Several months ago, I visited a conference in Colorado Springs. I had like 5 meetings a day, 3 days in a row. To make sure I'd have a connection when I arrived, I turned on roaming before leaving and topped up my SIM card for like $200. You just have to be on call on these trips, right? I thought I covered everything. How wrong was I!
"The plane landed, I turned on my iPhone, and there was no connection. I couldn't find a network, even manually. I waited a few minutes – but nothing. 
"Restarting my phone didn't help. I headed to the hotel, connected to Wi-Fi and started Googling roaming information and searching my carrier's website. Eventually, I found my carrier's customer service number (nothing else was there). 
"I connected to wifi, opened Yolla, called my carrier and talked for like a half an hour before they figured out the problem was on the local network's side. The funny thing was when they saw I was calling from abroad from my phone number (which was offline) they just couldn't believe it! 
"Anyway, my phone was fixed and I spent less than $1 on that lifelong international call to support. Yolla's a saver!"
Download Yolla Today
While wifi apps are useful for daily texting and calling, there are several disadvantages of WhatsApp and the like. If you ever need to call a landline or mobile, you'll need something else.
Fortunately, it doesn't matter where you are or where you need to call. Yolla lets you call app-to-app for free just like the other apps. It also lets you call any person or business anywhere in the world without breaking your bank. 
That's everyone's right. 
Avoid the disadvantages of WhatsApp, download Yolla today and get ready for your next trip abroad!
Last but not least, this handsome guy has another Yolla story to share with you.