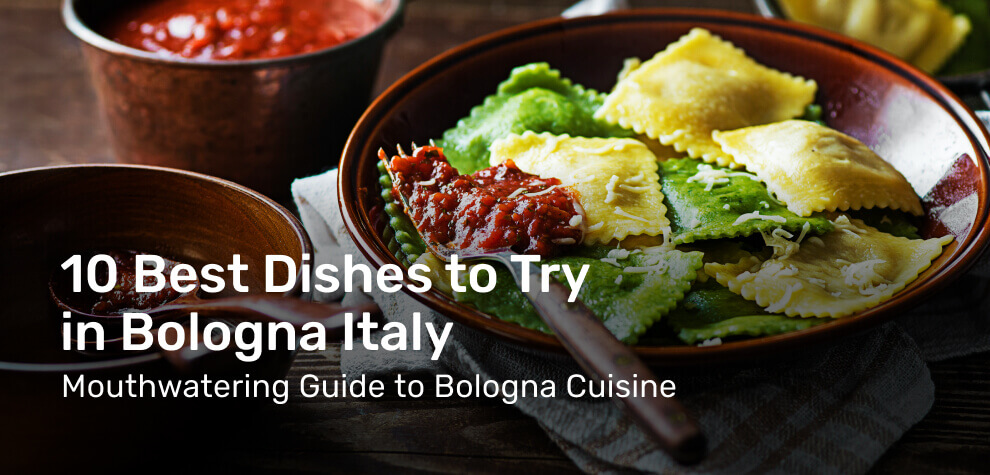 Bologna Food – Mouthwatering guide to Bologna cuisine
This is our 3rd article on Bologna. Talking about the Italian gastronomical capital, I can't not mention Bologna food and cuisine. But firstly, I have to reveal a big Italian secret: all the dishes you know and think are Italian, are probably something extremely un-Italian. Bologna food may surprise you.
The fact is, Italian cuisine differs A LOT from city to city – imagine how recipes change on their way to other countries and cultures! Each place has its particular, uncommon recipes and local specialties. The food in Bologna, Italy represents Italian cuisine, yet is unique in its own way. Here's our Bologna food guide.
What Food is Bologna Italy Known For?
For example, Bologna food is famous for its meat dishes, while Ferrara – 30 km away – welcomes you with pumpkin treats. You can hardly find anything with fish or seafood in Bologna cuisine, while Rimini is all about it. Each city offers traditional Italian cuisine, but differs in its own way.
Another thing is the name.
Take Spaghetti Bolognese, for example. What is the best bolognese in Bologna? In fact, it doesn't exist in Bologna cuisine!
You will never find anything called that on any menu there, and if you ask a waiter for it, be ready to get the most indignant look ever (worse is only when you order a cappuccino after 12 a.m., but that's a different story).
Tortellini, tagliatelle, lasagna, everything al ragù: the La Grassa nickname is well-deserved. Let's take a deeper look.
La Cucina Bolognese (Top 10 Bologna foods to try)
Are you wondering what to eat in Bologna? Let's start this Bologna food guide with one of the region's specialties – cheese. Did you know that the world-famous Parmigiano comes from Bologna cuisine?
Parmigiano Reggiano (and other Antipasti) – A staple of Bologna food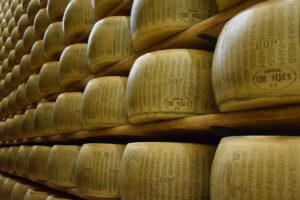 Okay, perhaps they do Parmigiano elsewhere, but Bologna is its motherland and also boasts lots of other cheese types of the kind. Tasting a true Parmigiano Reggiano has been compared to receiving a massage.
This cheese was first produced in the 12th century. The key to making authentic Parmigiano is in using the right technique, the best cow milk, and a good amount of patience.
After curing this cheese for twelve months, it's time to examine it. If it's ready, they immediately seal it and return it to mature for another three years. As it ages, its flavors intensify. Older Parmigianos have a rich flavor that massages your tastebuds.
As a result, not a single break goes without a local cheese plate, plus a tigelle (crescenta), for example. This is a crispy bread slice stuffed with either local mortadella, prosciutto di parma or anything else you like. Something like this is offered in any cafe. Enjoy yourself to the fullest with these starters (antipasti)!
Mortadella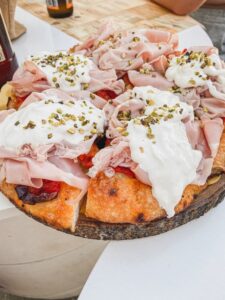 The art of using ground pork meat for sausage has been in existence since the Roman Period. At that time, the Romans used myrtle, instead of pepper, as the primary seasoning, since pepper hadn't yet arrived on the European continent. Today, it's one of the Bologna food specialties. The traditional ways of preparing this piece of Bologna cuisine is well preserved.
The pork is heat-cured and ground and the fat is shaped into tiny cubes, which gives it a unique, sweet flavor. You may sometimes find pistachios, peppers, or olives mixed in. It's soft with a slightly salty taste. Mortadella belongs on your next sandwich in Bologna.
Prosciutto – A tradition of Bologna food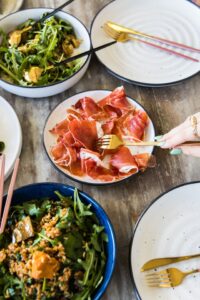 This is one of the most well-known, traditional products of Italy, specifically from the Emilia Romagna region. Prosciutto di Parma is one of the Bologna food specialties that's been passed down from generation to generation. Around the world, it's well-known for its salty and sweet flavors that fill your mouth.
The word 'prosciutto' originates from the Latin expression, "to remove the moisture", which is the basic principle in preparing prosciutto. First, the ham is dried and salted. It's then cured from 400 days to 3 years, after which it's ready to be enjoyed.
Tigelle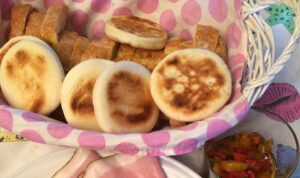 Also called crescente, or Crescenta Modenese, these small, thin circular pieces of bread are a tradition of the Apennines region, the mountains surrounding Modena. They're an important part of Bologna food tradition.
Italians often enjoy these with cunza, a paste made from rosemary and garlic-seasoned pork lard. However, they taste just as nice with cheese, boar, or salami.
Tigelle has influenced other kinds of Italian bread as well, including piadina and borlengo. You can find Tigelle in many restaurants throughout the Emilia Romagna region and in bakeries nearby the Bologna food markets, so it will be easy to find and taste.
Tagliatelle al Ragù – Bologna food specialty
The landmark of Bologna food is, no doubt, not what you think it is. Ragù is made with onions, celery, carrots, pork and veal and a tiny little bit of tomato in general, plus dozens of other ingredients in particular, varying from family to family, and from chef to chef.
The important thing is that they never do it with spaghetti. The perfect match is tagliatelle, homemade pasta cut in 7mm-wide strips. The same ragù, together with bechamel and Parmigiano, is used in lasagna.
I can hardly find anyone I know who doesn't like this traditional bolognese course. Yummy!
Tortellini in Brodo – A tasty side of Bologna food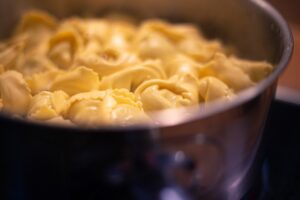 Tortellini in brodo is another type of pasta that is a staple of Bologna cuisine. It's stuffed with a filling of mortadella, pork, veal, prosciutto, and cheese. Don't get confused if you hear tortelloni: another common Bologna food dish, similar to tortellini pasta, but bigger in size.
Many people there get their ingredients from the local Bologna food markets.
Certosino di Bologna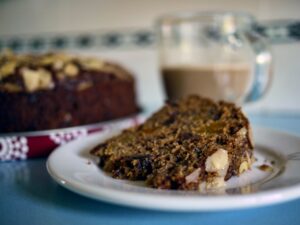 Certosino is an ancient, traditional Christmas cake, also known as panspeziale. This ancient form of Bologna food was originally prepared in the Middle Ages by Apothecaries (speziali). Later, Carthusian Monks in Bologna adopted the recipe and began preparing it, naming it Certosino, after their brotherhood.
This round, dark cake contains pine nuts, melted chocolate, honey, almonds, candied fruits and sultanas. You'll also notice a hint of seasonings like anise and cinnamon on your tongue. To please the eye, they decorate the outside of the bread with almonds. If it sounds heavy, that's because it is!
This traditional bread from Bologna cuisine smells and looks just like Christmas. However, nobody is stopping you from enjoying this ancient dish at any time in the year.
Lasagne Verde al Forno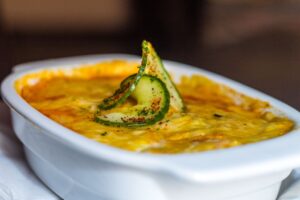 Lasagna is a widely known Italian dish and another tradition passed on from the Roman Period. It remains a staple of Bologna traditional cuisine. In Bologna, they use a thick ragù with a smooth Béchamel sauce as layers between green sheets of lasagna. The green in the lasagna comes from spinach that's added to the dough.
In the Emilia Romagna region, they prepare this traditional Bologna food dish 'al forno', which means they bake it in the oven. However, before they do that, they cover it with grated Parmigiano to create a savory, crusty top. Many travelers who've tasted it now believe it's the best pasta in Bologna. Surely, reading about this lasagna makes you want to jump on the next flight to Italy to try it yourself.
Passatelli
Passatelli is another pasta dish typical of traditional Bologna cuisine. One peculiarity of this dish is that breadcrumbs are one of its main ingredients, along with parmesan cheese and eggs. Many restaurants in Bologna serve this traditional form of Bologna food in two ways: in meat broth or with a mix of vegetables and ham.
If you decide to make your own, we suggest getting your ingredients from the local Bologna food markets.
Sweets – Bologna food
Among all the sweets of Bologna food heritage, the one that never goes out of demand is gelato. This is a famous Bologna cuisine dessert. Made with original Italian recipes, this amazing kind of ice cream is simply perfect in Bologna.
Try the nocciola + pistacchio mix at Gelateria Gianni. You'll be on cloud nine. But honestly, I bet you'll be on cloud nine for the whole trip – as Bologna is heaven.
Now you know all about the best Bologna food. If want to find out what to see and do in this city, besides enjoying Bologna food, then read Parts 1 & 2 of the series.
Part 2 includes a customize walking itinerary through the city that you shouldn't miss. It also provides a detailed history of the important sights of Bologna, so you can appreciate all the wonderful sights you'll be visiting along the way.
Call With Yolla While You're Travelling
While we're talking travel, remember that you can make international calls at extremely low rates from anywhere in the world with Yolla. It's just a matter of downloading the free app, topping up your account and dialing a number.
Calling with Yolla is just like calling from your original number because the app preserves your number on any call you make. Yolla's extremely low rates make it an affordable option for calling any country from anywhere in the world, without breaking your bank.
Tip: Get free credits to call friends and family for FREE. If you download the app today and share your personal download link with a friend, you'll both get $3 in free calling credit once your friend tops up their Yolla balance. For example, that's more than 6 hours of talking time on calls to the USA!
Download Yolla here:
Buon viaggio!
Other Useful Links
https://yollacalls.com – to make cheap calls abroad (Italy included)
http://www.bolognawelcome.com – useful for tourists in many cases
http://www.trenitalia.com – to book your train tickets
https://www.lonelyplanet.com/italy/emilia-romagna-and-san-marino/bologna – to get a deeper prospect on sightseeing
https://www.rome2rio.com/ – for getting around