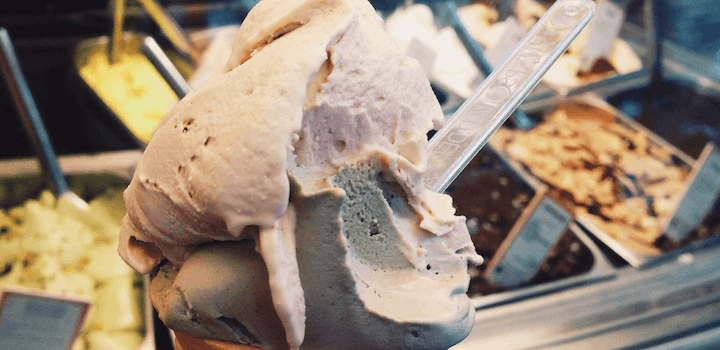 La Cucina Bolognese + Aperitivo Traditions
Telling about Italian gastronomical capital, I can not mention the cuisine. But first of all, I have to reveal a big Italian secret: all the dishes you know and think are Italian, are probably something extremely not Italian. The fact is, Italian cuisine differs A LOT from city to city – imagine how do recipes change on the way to other countries and cultures! Each place has it's particular, uncommon recipes and local specialties. For example, Bologna is famous for its meat dishes, while Ferrara – 30 km away – welcomes you with pumpkin treats. You can hardly find anything with fish or seafood in Bologna, while Rimini is all about it. Another thing is the name. Take Spaghetti Bolognese: they don't exist in Bologna! You will never find anything called like that on any menu, and if you ask a waiter for that, be ready to get the most indignant look ever (worse is only when your order cappuccio after 12 a.m., but that's a different story). Tortellini, tagliatelle, lasagna, everything al ragù: La Grassa nickname is well-deserved. Let's take a deeper look. By the way, while at Bologna, I called abroad to Estonia via Yolla! Call international with Yolla too!
Did you know that world-famous Parmigiano comes from Bologna? Okay, perhaps they do it elsewhere, but the city is its' motherland and boasts lots of other cheese types of the kind. Thus, not a single aperitivo goes without a local cheese plate plus a crescenta, for example. It is a crispy bread slice stuffed with either local mortadella, prosciutto crudo di Parma or anything else you like. Something like that will be offered in any cafe and bar at the aperitivo time. Enjoy your Aperol Spritz or a glass of Pignoletto at fullest with these starters!
Tagliatelle al ragù. The landmark of Bologna is, no doubt, not what you think it is. Ragù is made with onions, celery, carrots, pork and veal and a tiny little bit of tomato in general, plus dozens of other ingredients in particular, varying from family to family, and from chef to chef. Important thing is, they never do it with spaghetti. The perfect match is tagliatelle, homemade pasta cut in 7mm wide stripes. The same ragù, together with bechamel and Parmigiano, is used in lasagna. I can hardly find anyone I know who doesn't like this traditional bolognese course. Yummy! Tortellini in brodo is another type of pasta stuffed with a filling of mortadella, pork, veal, prosciutto, and cheese. Don't get confused if hear tortelloni: that is the tortellini pasta bigger in size.
Among all the sweets the one that never goes out of demand is gelato. Made with original Italian recipes, this amazing kind of ice-cream is simply perfect in Bologna. Try nocciola + pistacchio mix at Gelateria Gianni. You'll be on the cloud nine. But honestly, I bet you'd be on the cloud nine for the whole trip – as Bologna is a heaven.
Pro tip: if you need to talk with someone in Bologna you can count on Yolla for cheap international calls to Italy!
Part 1: La Grassa. La Dotta. La Rossa
Part 2: Traditional things to see in Bologna
Part 3: Non-traditional things to do in Bologna and to do around Bologna
Useful links
https://yollacalls.com – to make cheap calls abroad (Italy included)
http://www.bolognawelcome.com – useful for tourists in many cases 
http://www.trenitalia.com – to book your train tickets 
https://www.lonelyplanet.com/italy/emilia-romagna-and-san-marino/bologna – to get a deeper prospect on sightseeing 
http://www.zerocinquantino.net – to have a perfect aperitivo  
http://colazionedabianca.it – perfect cappucio and brioche. The best breakfast you'll have ever.
https://www.rome2rio.com/ – to get around