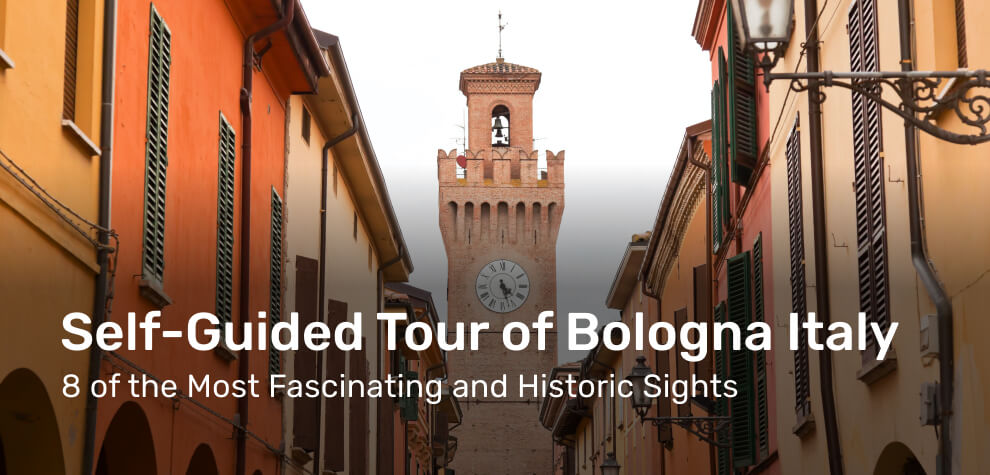 Top 8 Bologna Attractions – Historic sights of Bologna, Italy
Luckily, the perfectly preserved historical center of Bologna is easy to discover on foot and all the must-visit Bologna attractions are within walking distance from one another. But you may want some help deciding where to go and what to try first. In this article, you'll find the most historic Bologna attractions. We're going to take you on a personalized tour of restaurants, parks, historical points and more, share the stories behind the sights and show you how the locals live.
What to Do in Bologna Italy – Top Tourist Attractions in Bologna Italy
This is the second article in our three-article series on Bologna, prepared by our Italy-loving PR and marketing manager Natalie. Bologna is one of the most energetic and youthful Italian cities that is (luckily) not found on the list of common Italy tourist destinations. This means you can enjoy it with no haste. 
In this article, Natalie not only shares with you the best things to do in Bologna, but she uncovers the most traditional Bologna attractions – ones that reveal the history of the city and its special place in Italian culture. 
Get to know Bologna on your own – Top Bologna Attractions
Firstly, It's important to point out that Bologna attractions include a wealth of wonderful, interesting, delicious and beautiful places and things to experience. I strongly encourage you to take a day or two sightseeing in Bologna to explore all the magnificent places with no hurry and no particular agenda.  
If you want some general ideas for where to stroll, have a look at Part 1 of our Bologna series. It gives you a quick overview of the history and top sights of Bologna city.
Now, if you're ready to dive into the history of Bologna city now and explore traditional Bologna attractions, then read on. I'm going to share my own perfect path that I would use to show the most traditional Bologna attractions to anyone coming here for the first time. 
Let's begin!
Top 8 Bologna Attractions – Personalized journey through Bologna
Let's take the first step off the Bologna Centrale, one of the biggest railway stations all over Italy.
(By the way, a little hint: traveling using the railways is so cheap and easy in Italy, especially compared to my experience in France. I'd strongly recommend taking this into account while planning your Italian vacation). 
1. Parco Della Montagnola – Bologna Attractions
Turn left and in a couple of minutes, you'll see one of the most beautiful Bologna attractions – a flourishing garden soaring up in front of you. That's the Parco Della Montagnola. A nice place to jog in the morning (though, not somewhere I'd go at night) and one of the best places to visit in Bologna. 
Here, you can sip in the fresh air, take a moment to enjoy the calmness after the train ride (if you took one), and then go back to Via dell'Indipendenza. That's the main shopping vein of the city, a place where there are plenty of local boutiques, ZARA, Mango and other international giants, overpriced bars, and touristic shops. If you want to know where to go in Bologna Italy for contemporary shopping, this is your best choice.
Feel lucky if you're there on Saturday or Sunday: the street is restricted to pedestrians every weekend so people can fully enjoy all the ancient buildings, portici (porticos) and the entire view.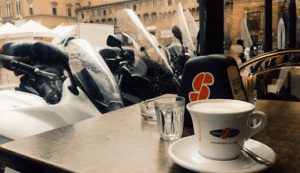 If you don't make any turns, Via dell'Indipendenza will lead you right up to several traditional Bologna tourist attractions – the Piazza del Nettuno with the famous Fontana del Nettuno in the middle, Palazzo Re Enzo on the left, Biblioteca Salaborsa on the right, and the queen of the city – Piazza Maggiore a bit further ahead.
2. Piazzo Maggiore – Heart of Bologna
While approaching Piazzo Maggiore, stop and take a look around inside the Palazzo Communale gardens. They are beautifully authentic and truly feel like a traditional Bologna attraction. 
Being the heart of Bologna, Piazza Maggiore has countless small veins and vessels branching out from it. Choose any little street you like and enjoy the path, which will definitely take you to the coziest restaurant or a breathtaking view. 
However, be sure not to miss the main tourist places during your first visit, even these are steeped in history and represent a key point in the art history of Bologna city. 
You can go back on Via Rizzoli and head off to Le Due Torri. 
3. Towers of Bologna – Bologna attractions
The towers of Bologna are an especially unique thing to see and do in Bologna. They are of the most traditional Bologna attractions. While I mentioned them in Part 1 of this Bologna series, I'm going to share some of the history, so you're aware of it when you visit them.
The legend is, Bologna used to be a city of towers. Each family with a high income had to build a tower to show its power and wealth. One day, there turned out to be way too many towers – the city had a lot of wealthy families. It became dangerous to stay on the streets as one of the towers could collapse at any moment from an earthquake or something else. To avoid a domino effect, it was decided to take most of them down. 
The other legend is that you'll never graduate if you don't climb all the way up the tallest one – Torre degli Asinelli – 498 steps up a semi-exposed wooden staircase. A diploma in Bologna is a tough puzzle to crack. 
From the Piazza di Porta Ravegnana with the towers, you can see the trident of major city center streets. A short walk through Via Zamboni – and you find yourself in the middle of the University of Bologna.
4. University of Bologna – Bologna attractions
Since Bologna embodies as much of the past as it does the present, a stop at the University of Bologna may be worth considering. Libraries, museums, coffee shops, students sitting right on the ground preparing for another exam – that's Alma Mater Studiorum. Imagine that you're still a student (or maybe you really are one?) and take as much time as you need to feel the atmosphere of the first university in the world. 
Then go back to the towers the same way so as not to get lost, take a quick look at Via San Vitale and Strada Maggiore so you remember how to get back there when you have some free time. And head to Via Santo Stefano, Piazza Santo Stefano, and Basilica di Santo Stefano. 
5. Via Santo Stefano, Piazza Santo Stefano, and Basilica di Santo Stefano – Top Bologna attractions
This is a unique structure of seven different churches, built next to each other. Wander inside, imagine the priests praying there centuries ago, listen to all the mysterious noises and smell the antiquity. 
Let's continue our stroll. One of my personal favorites is the market street area close to Piazza Maggiore – Via degli Orefici, Via Caprarie, Via Clavature and all the rest in between. 
6. Market Streets off Piazza Maggiore – Bologna attractions
In the daylight, there are noisy Italian grannies buying the freshest ingredients for their tortellini, arguing (actually, shouting is a better word) men drinking espresso standing at the high tables right on the street (where you can hardly move, by the way). This is indeed a uniquely Bologna attraction.
The air is a mixture of bakeries, coffee, meat and fresh fish scents. Suddenly, you can pop into flower shops with bouquets or the famous Eataly (but the local market in front of it with the same goods is way better). Oh, here you'll see all the reasons people adore Italy. 
But at night, when the market is closed, new versions of Bologna attractions emerge. Small cozy restaurants appear out of nowhere. Tables stand right on the streets, and you probably won't be able to tell which restaurant they belong to. Prosciutto, parmesan and mortadella plates, bustling talks, sincere laughing, bunches of friends. Italy is love, and you fall in love with it right here. My personal favorite is 051 – Osteria. There's no place like this, to feel more Italian.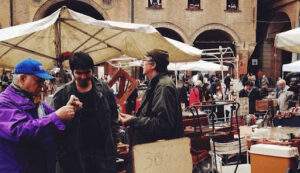 After such an afternoon or evening, it can be a great idea to stroll through another of Bologna's refreshing parks. One spot I love is Giardini Margherita. 
7. Giardini Margherita
This is a park located away from hustle and bustle of the central streets but is still within walking distance from Piazza Maggiore. Bologna is stony and rocky, and this place is an oasis for anyone who misses nature, making it a must-see Bologna attraction. Plus, it's one of the most expensive areas to live in Bologna!
And remember, the spirit of Bologna isn't only one of youth, food and Italian history. Of course, not a single car driver should miss a chance to visit the Ferrari, Lamborghini and Ducati factories and museums in the suburbs.
8. Ferrari, Lamborghini and Ducati Factories and Museums
These are fun to visit even if you don't drive – they are located in the villages outside of the center of Bologna, where you can see more luxury cars than people around. An interesting experience. 
Then go to the nearest cafe – you deserve an orzo after such a busy day!
At night, Bologna isn't boring. I really mean it. If you feel like visiting the city at night, the recipe is: Visit Piazza Verde and take a seat in a free spot (feel lucky to find one). Talk with crowds, meet lots of people you know and don't know, then visit one of your favorite restaurants or stroll through the city. Fun, guaranteed.
Top Tourist Attractions in Bologna Italy – More than architecture
This is a short list of the must-visit top things to do and see in Bologna if you're interested in traditional Bologna attractions. In my opinion, they are some of the best in Bologna, Italy.
It's quite short – bear in mind to study some other places of interest on your own. I can't name all the back streets, lanes and alleys – the experience of finding them by yourself is too precious. But there are some corners I insist on checking out – so that Bologna opens up its real face. 
Now, what about Bologna cuisine? If you want to learn about the cuisine of this area, then you're in luck.
Bologna Cuisine – Other things to do in Bologna
The list of traditional Bologna attractions doesn't end at architecture and parks. Check out Part 3 of our series to dive deeper into the history of Bologna and find some exquisite, traditional Italian dishes to try when you visit Bologna city.
Call Anywhere With Yolla
And if you're currently abroad or you're traveling somewhere soon, rely on Yolla for making international calls. Yolla gives you the freedom to call any mobile or landline in the world, no matter where you're located, at low rates, and even for free. 
Download the app today and start saving on international calls today (iOS, Android).
And, see you in Bologna!
Other Useful Links
https://yollacalls.com – to make cheap calls abroad (Italy included)
http://www.bolognawelcome.com – useful for tourists in many cases 
http://www.trenitalia.com – to book your train tickets 
https://www.lonelyplanet.com/italy/emilia-romagna-and-san-marino/bologna – to get deeper insight on sightseeing 
https://www.rome2rio.com/ – for getting around