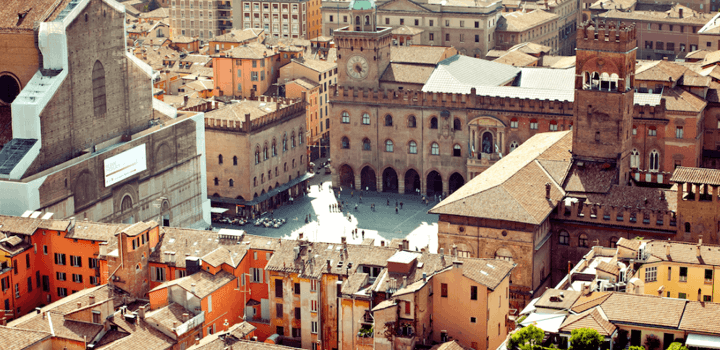 As far as Yolla is a must-have app for international calls, it's an essential addition to smartphones for many tourists and globe-trotters, which means our users do travel and travel a lot. That made us questioning: why not to put a light on some must-visits spots all over the world we adore? Hence, welcome to Yolla Travel Destination Guideposts on favorite places of the Yolla team worldwide with personal recommendations, hints, and hacks, and only God knows what else! And if you happen to visit interesting places while travelling and feel a need to share this with your friends or family back home, you can always call abroad with Yolla!
So, we're starting the guide with our being-carried-away-with-Italy PR and marketing manager – Natalie. She'll tell her story of one of the most underestimated by tourists cities (luckily) – Bologna.
La Grassa. La Dotta. La Rossa
Bologna, the capital of the Emilia-Romagna region, is not a typical Italian city that comes to mind with the word "pasta". Located at the intersection of the major Italian railroads, the city stays off well-known tourists destinations and is hardly mentioned in Italian travel guides. But that's a blessing – we all have a chance to enjoy its' authentic atmosphere without a single trace of fuss.
Bologna was founded in the 6th century BC as Felsina. Pretty old one, huh? But it would be fair to say that the latest history of the city began with the foundation of Bologna University in 1088 – the first university in the world. Currently, more than 500,000 students are living in the city, including Erasmus and other overseas students, which makes Bologna one of the youngest and fullest of fun and energy cities in Italy or, probably, the whole Europe. Or even in the world.
But Bologna is not just about medieval elegance in the reign of youth. The city has two contradictory halves: hi-tech, hard-working city on the one side, and place of a pure Italian charm on the other. It has a triple nickname. La Grassa (the fat one) stands for the super delicious cuisine, La Dotta (the learned one) – for the knowledge and the University, La Rossa (the red one) – for the terracotta buildings, porticos, and engaging ochre roofs. There are thousands of spots well worth immersing into by yourself, and good old sightseeing is only a little step towards falling in love with the city. In these blog post series, you'll know what to do, see and try during your Bologna vacation.
Part 2: Traditional things to see in Bologna
Part 3: Non-traditional things to do in Bologna and to do around Bologna
Part 4: La Cucina Bolognese
Pro tip: if you need to talk with someone in Bologna you can count on Yolla for cheap international calls to Italy!
Enjoy!