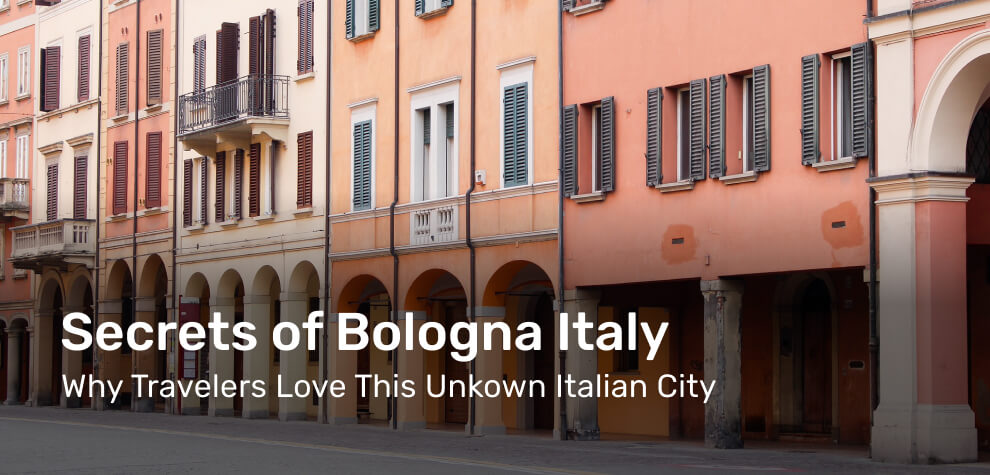 What is Bologna Italy Known For? Discover the Secrets of Bologna
I recently heard someone asking, what is Bologna Italy known for? And it got me thinking: there are many lesser-known places (luckily) in the world that are incredibly beautiful. And our carried-away-with-Italy PR and marketing manager Natalie happens to know everything there is to know about Bologna. So we decided, why not shed some light on this pleasant city? In this series of three articles, we're going to answer the question, what is Bologna Italy known for? and show you how beautiful this unknown city is.
La Grassa. La Dotta. La Rossa
While Italy is famous for the Renaissance, language, artists, opera, beautiful architecture and more, there are lesser-known destinations here that are equally impressive. Bologna is a perfect example.
The city has pedestrian walkways, bike-only zones and highly evolved social services. Interestingly, it has a triple nickname, "La Dotta" (the learned one"), La Grassa (the fat one), and La Rossa (the red one) due to its famed university, super delicious cuisine and terracotta buildings, porticos, and engaging ochre roofs. 
Here's what makes Bologna, Italy such a pleasant Italian city. 
What is Bologna Italy known for?
Bologna – what is it known for? Before we dive in, let's cover some interesting facts about this city. 
Bologna, the capital of the Emilia-Romagna region, isn't a typical Italian city that comes to mind when we hear the word "pasta". So, where is Bologna Italy? Located at the intersection of the major Italian railroads, the city stays off well-known tourists destinations and is hardly mentioned in Italian travel guides. But that's a blessing – we all have a chance to enjoy its authentic atmosphere without a single trace of fuss.
Interesting Facts About Bologna – What is Bologna Italy Known for?
Bologna was founded in the 6th century BC as Felsina. Pretty old, huh? But it would be fair to say that the latest history of the city began with the foundation of the Bologna University in 1088 – the first university in the world. 
Currently, more than 500,000 students live in the city, including Erasmus and other overseas students, which makes Bologna one of the youngest, most fun, and energetic cities in Italy or, probably, all of Europe. Or even in the world.
But Bologna isn't just about medieval elegance in the reign of youth. The city has two contradictory halves: a hi-tech, hard-working city on one side, and a place of pure Italian charm on the other. 
There are thousands of spots well worth immersing into by yourself, and good old sightseeing is only a little step toward falling in love with the city.
So, what is Bologna Italy known for? Let's have a look. Here are 10 of the best things to do in Bologna, Italy. 
What is Bologna Italy Known For? 10 Things to Do, Taste and Try
What is Bologna Italy known for? Here are 10 things to do, taste and try in Bologna.
1. Local Cuisine – What is Bologna Italy known for?
The Bologna region, or more accurately the Emilia-Romagna region, is well known for its cuisine and Bologna is one of the best places to try its varieties. So many people are curious, what food is Bologna Italy known for? 
There is so much more to try in Bologna city than spaghetti bolognese. At many restaurants, you'll find a variety of handmade traditional Italian dishes like tortellini, lasagna and tagliatelle. 
Tagliatelle is often served covered in ragu, a slow-cooked meat sauce. Salami and mortadella are also staples of Bologna cuisine. If you're interested in high-standard restaurants, you're in luck. Bologna is a host of many Michelin-starred restaurants serving all of the above-mentioned dishes plus more. 
2. View and Walk the Porticos
The porticos of Bologna are one of this city's most unique features. Bologna is one of the most "arcaded" cities of Italy. Visitors can walk the city at night even in the rain because of Bologna's vast expanse of these corridors. And they make window shopping a real pleasure.
The porticos were originally built to accommodate the rapidly growing population of the city, partially due to its growing university. 
When the University of Bologna was established in 1088AD, its student base grew rapidly as the university began hosting students from all over Europe. To accommodate this growth, the city council needed to change the layout of the city. At that time, corridors were commonly used to extend the living space of homes and were used as an example for expanding Bologna's public space. 
Many other cities around Italy used these porticos to make space for residents. However, because they encroached on streets, many cities forbid them. 
Bologna, on the other hand, took advantage of this unique way of expanding the public and living spaces of the city. They even created a strict set of rules for how to create them. For example, they had to be 7 meters tall, so a person on a horse could pass through them. Today, it's what Bologna Italy is known for. 
3. View the Architecture
If you're curious about what Bologna Italy is known for, we can tell you that its architecture is one reason people visit here. The porticos of Bologna city are just one of the many beautiful architectural features of Bologna's compact medieval center. The city, in general, is filled with many beautiful churches, civil buildings and monuments. We also recommend you visit the Santuario di Madonna di San Luca church atop the hill and the Chiesa di San Giacomo Maggiore, which has baroque and renaissance influences. The former main building of the university is also a pleasure to gaze at – the Archginnasio of Bologna. It currently houses the Teatro Anatomica.
4. Piazza Maggiore – What is Bologna Italy known for?
We understand you're curious about what Bologna Italy is known for. While this feature may not have made Bologna famous, this is one of its primary features. A visit to Bologna city shouldn't miss the beautiful central square – the heart of the historical center. The Piazza Maggiore was built between the 12th and 15th centuries and the open space of this square is lined with architectural delights on all sides. 
On the west side of the Piazza Maggiore, you can see the former city hall Pallazo d'Accursio. 
On the southeast side, you can see Basilique San Petronio, the dome of Bologna.
On the northern side of the square, you'll notice the Pallazo del Podestà (the former justice palace), the main public library and the well-known fountain of Neptune. The fountain of Neptune is a good representation of the late renaissance style called Mannerism, a style popular among the Italian elite in the 16th century, which was followed by Baroque. 
5. Climb Asinelli Tower for Spectacular Views
What is Bologna Italy known for? Its towers are one of the key features of this city. Bologna city's skyline has a collection of many historic towers offering superb panoramas over the beautiful city below. The tallest of them is the Asinelli. Together with the nearby Garisenda Tower, both are referred to by the locals as Le Due Torri (Two Towers). 
You can reach them in 5 minutes on foot from the Piazza Maggiore.
After enjoying a big lunch, you can get a bit of exercise by climbing the 500 steps of Asinelli's spiraling staircase. From the top, you can see many of the city's primary landmarks and surrounding countryside. The view is well worth the effort, but be sure you're in good shape for the climb.
It costs around 5 euros to climb the tower and you can buy tickets in advance from the towers' official website.  
6. Try New Flavors Along Via Clavature 
What is Bologna Italy known for? The university, architecture and delicious cuisine. If climbing Le Due Torri doesn't suit your fancy, don't forget you can always turn back to the local cuisine. Another interesting walk off Piazza Maggiore is along Via Clavature. This road features many small food stalls. You can also find several small markets off its sidestreets. For example, the Pescheria Brunelli is the oldest fish market in the city. For a quick bite to eat, the Mercato di Mezzo is another interesting covered market filled with restaurants and small bites. 
7. San Domenico Basilica & Michelangelo's Sculptures
Another route south off Piazza Maggiore leads to the San Domenico Basilica, one of the great churches of Bologna city. This basilica holds a special place in the art history of Bologna. 
Along the way there, you'll pass the east side of San Petronio's Basilica before reaching the unique Piazza San Domenico, which is paved in river-pebbles as it was in use in the middle ages. 
Here, you'll find the 13th-century San Domenico Basilica, boasting Romanesque features and a spectacular rose window, which looks stunning from the inside. Among the sculptures, you'll find three originals from Michelangelo. Entrance is free.
8. Explore Interlocking Churches 
What is Bologna Italy known for? While the city may not be famous for its plazas and beautiful historic buildings, such sights are indeed there. In the quaint Piazza Santo Stefano, which is also known as the Piazza delle Sette Chiese, you'll find a series of interlocking Roman churches. The oldest one, called Santi Vitale e Agricola, contains Roman columns and pieces of Roman temples and is named after two saints in Bologna during the era of the Roman Emperor Diocletian. Here, you'll also find an interesting courtyard with a network of little chapels.
9. Archiginnassio
What is Bologna Italy known for? Bologna is where the first university in the world was established. We mentioned above that the Archiginnassio is the former main building of the university. But it's perhaps one of the most important buildings of Bologna city, so it deserves more attention. 
Today, the building serves as a museum, also housing a public library and anatomical theater. It only lost its function as the primary university building when the city moved the university to Palazzo Pogo in 1803.
The public library opened in 1838. It's the largest of the Emilia-Romagna region, containing a grand historical collection of more than 850,000 books, magazines, manuscripts and pamphlets. Some of its pieces date back to the 16th century. The theater is in the shape of an amphitheater. 
The building was unfortunately bombed and completely destroyed in World War II. However, it was rebuilt with the surviving original pieces. 
10. Art of Pinacoteca Nazionale 
View original pieces from artists like El Greco and Raphael. 
What is Bologna Italy known for? Like much of Italy, in Bologna there is no shortage of historic art. The Pinacoteca Nazionale in Bologna city is one of the best galleries in all of Italy. It contains several important works of art, including oil paintings that date back to the 13th century. The gallery is located inside a former Jesuit building, where you'll also find the Academy of Fine Arts.
Bonus: Find Bologna's Hidden Canals 
When answering the question, 'what is Bologna Italy known for?', you may not expect us to say canals. Bologna city isn't as famous as Venice for its canals, but this may just be because Bologna's canals are hidden behind the buildings. You can easily get a peek into Bologna's beautiful canals through the window located on Via Piella, where you can view the Canale delle Moline, a part of the medieval canal system of Bologna. Or you can simply book a hotel or apartment alongside the canals with a view over the water.
What is Bologna Italy Known For? There's more
The beautiful thing about Bologna city is that there's always more to explore and uncover. If you still want to discover more about this city and what it's famous for, have a look at the next three articles in our Bologna city series. 
In Part 2, we dive deeper into the question, 'What is Bologna Italy known for?'. We show you some of the most traditional ways to experience Bologna:
Call Abroad For Cheap With Yolla
And if you need to call someone in Bologna or any other country in the world, download the Yolla app. With Yolla, international calls are cheap. Plus, if you share the app with a friend, you both get $3 towards free calling once they top up their balance. With our low rates, this can amount to several hours of calling time. For example, that's more than 6 hours of free talking time on calls to the US. 
Simply download the free app today (iOS, Android).
And, see you in Bologna!
Other Useful Links
https://yollacalls.com – to make cheap calls abroad (Italy included)
http://www.bolognawelcome.com – useful for tourists in many cases 
http://www.trenitalia.com – to book your train tickets 
https://www.lonelyplanet.com/italy/emilia-romagna-and-san-marino/bologna – to get a deeper prospect on sightseeing 
https://www.rome2rio.com/ – for getting around