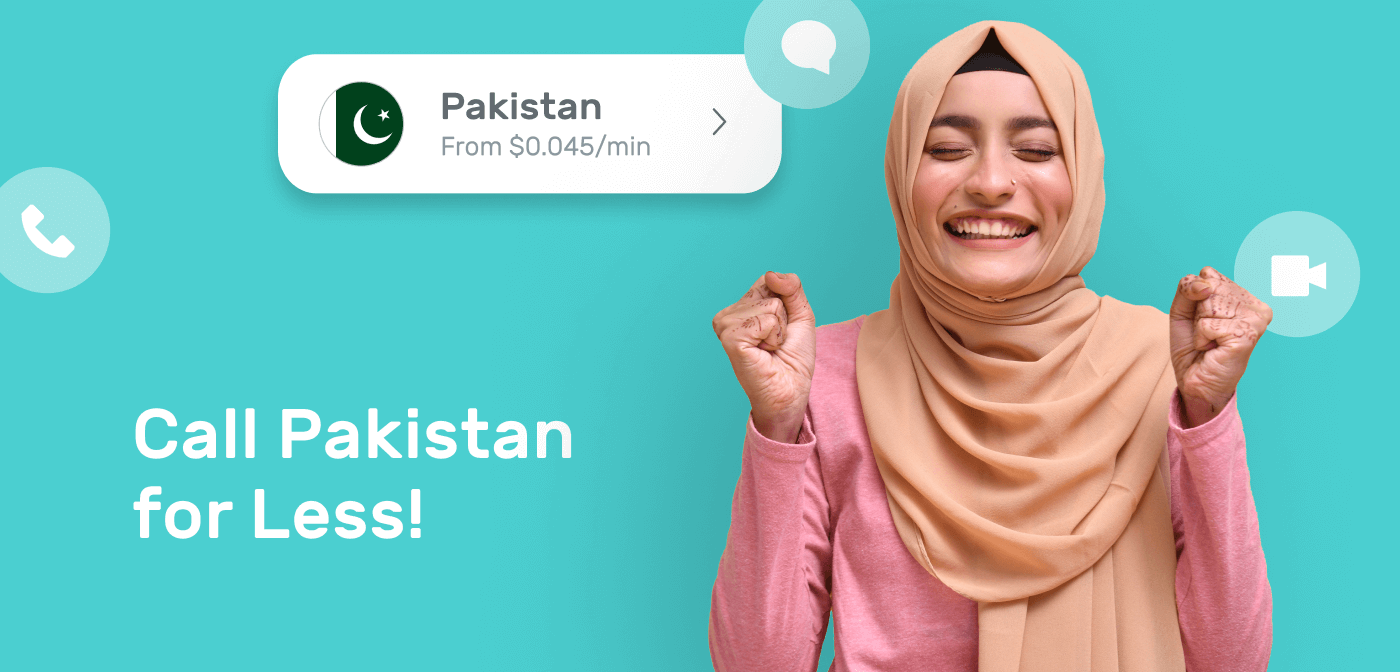 How to Make Cheap Calls to Pakistan – Don't overpay!
Are you looking to make cheap calls to Pakistan? Do you have friends, family or colleagues there waiting for your call? We have good news for you. Yolla offers especially cheap calls to Pakistan – the rates are so low you'll barely notice them! By offering affordable international calling rates, Yolla strives to keep you connected to your friends and loved ones in Pakistan, without breaking your bank. That's your right. 
Here's how it works. 
How to Make Cheap Calls to Pakistan
It's easy as 1, 2, 3. To make cheap calls to Pakistan, just download the Yolla app, top up your account and dial any mobile or landline you want to call.
That's it! You'll be calling Pakistan for cheap in minutes and can talk for as long as your heart desires. 
With Yolla, you can also earn credits to make FREE calls to Pakistan. I'll show you how to do that in a bit, but let me explain how Yolla works first.
What is Yolla? Cheap VoIP Calls to Pakistan
Yolla is an international calling and texting app (WiFi calling app) that uses VoIP technology to connect international calls over the internet instead of via traditional cellular networks. 
All the technical jargon aside, what this means is that you can make cheap calls to Pakistan from a mobile app with the same high-quality connection you're used to from regular calls at a fraction of the price. Gone are the days of using expensive calling cards for Pakistan.
By taking advantage of VoIP technology, Yolla can offer the lowest possible rates on international calls to Pakistan with HD call quality. 
Yolla's Calling Rates for Pakistan
For international calls to Pakistan, Yolla charges $0.055 /min for calls to landlines and $0.045 /min for calls to mobiles
So, how can you start calling today? As you may already know, using an app for calling is incredibly simple.
If not, just follow these four steps.
How to Make Cheap Calls to Pakistan From Mobiles – With the Yolla app
Sign up

and verify your phone number

Top up

your account

Start

calling
Making cheap calls to Pakistan with Yolla is practically the same as making a regular call from your phone. Yolla synchronizes with your contacts list – just choose a contact and tap the call button. 
Cheap Calls to Pakistan From the USA, Australia, Canada, UK and Everywhere Else
Yolla's rates are always the same, regardless of which country you call from. 
Whether you want to make cheap calls to Pakistan from the USA, Australia, UK, Canada or any other country, you'll pay the same rate each time.
Yolla doesn't only offer unbelievably low rates for calling Pakistan. It also guarantees stable, high quality, lag-free calls and much more. For example, you get to keep your number – anyone you call will know it's you, no matter where in the world you're at!
This can be especially useful if you have to call your bank back home from abroad. While using an app to call and message people around the world is no longer considered groundbreaking technology, most of these apps don't let you call mobiles and landlines. 
Aside from Yolla's low rates, the fact you can call directly to any phone anywhere in the world makes it a useful app for many people. 
Here's the entire list of features you get with Yolla:
Yolla's Extra Features – Reliability, HD Quality, No Expiration Date, and More
Keep your number

: Yolla connects with your current phone number, so when you make a call, the recipient sees your name/number on their caller ID.

Unbelievably low rates for cheap calls to Pakistan

 to any network

Credits

never expire

Reliable,

HD

quality calls – no lag or drops 

Easy-to-use

interface that will never confuse you

Free, unlimited calling

app-to-app
24/7

customer support
Because of Yolla's low rates and convenience, it can even be useful if you're looking to make cheap calls from within Pakistan. 
Last but not least, let's look at how to make FREE calls to Pakistan.
How Can I Make Free Calls to Pakistan From the USA or Anywhere Else?
I mentioned at the beginning of this article that there are several ways to earn free credits that can be used for making free calls to Pakistan. 
Here they are. Follow the below instructions, and you'll be making free calls to Pakistan today.
Yolla Referral Program
Here's how the Yolla Referral Program works. 
When a friend signs up to Yolla via your referral link, you both receive a $3 bonus to your Yolla accounts (worth 60+ min of free calls to Pakistan). There's no limit on the number of bonuses you can receive – the more friends, the more bonuses! 
Just make sure your friend tops up their account after registration. Once they top up, you'll both see $3 appear in your accounts, which can be used for free calls to Pakistan or any other country.
Here's how this works:
Find

your

personal referral link

by tapping on the gift icon at the bottom of the screen

Copy

it

Send

it to your friends by SMS, email or any other way

They purchase

credit

and you both receive $3

Start calling

Pakistan for free
Pretty easy, right? Android users have another option to earn free credit. 
Yolla's Android Testing Program
You help us – we help you. Those of you with Android phones can sign up for the Yolla Android Testing Program. From time to time, you'll receive occasional test calls and messages. For each test you receive, you get some free credit.
We won't spam you and you don't need to answer the calls or save the texts. Just watch them arrive and collect your free credit.
Here's how to sign up in the Yolla app:
Tap

Get Free Credits

Tap

Testing Program
Enable

the tests you want to join
Another way to earn credit for free calls to Pakistan is with promo codes. Each code gives you a bonus on your next top-up (5%, 10%, etc.). Be sure to follow Yolla on social media (Facebook, Twitter, Instagram, LinkedIn) to avoid missing any promo codes.
Download Yolla and Start Making Cheap Calls to Pakistan Today
Yolla's mission is to connect people with their friends, colleagues and loved ones around the world without breaking the bank – that's everyone's right. 
With Yolla, you have the freedom to make cheap calls to Pakistan without the hassle, unexpected fees and expiration dates of expensive calling cards. 
Stay connected to your friends and family and download Yolla to start making cheap calls to Pakistan today.
Happy calling!