International Texting and SMS With Yolla 
When you have a short message you need to send someone abroad, it's sometimes much more convenient to drop them a text. While wifi calling apps make it easy to call anyone anywhere in the world, what about international texting? Carriers charge enormous fees for international texts. While texting apps allow you to send international texts app-to-app for free, they won't let you send international texts straight to someone's mobile phone. With Yolla, international texting & SMS to mobile phones is cheap, easy and reliable. 
In this article, we'll explain exactly how easy it is. By the end of the article, you will know:
If it's possible to text someone in another country
What the Yolla international calling and texting app is
How to text an international number on iPhone, Android or Huwaei

 

How much international texting costs
How to send international texts & SMS today
How to text and international number for free
Let's begin!
Can You Text Someone in Another Country?
There are many ways to text someone in another country. One way is to text someone abroad via your mobile carrier. However, the rates for international texting to mobile phones with your carrier are enormous. 
The second, and most popular way to text someone in another country is with an international texting and calling app, like Yolla. Many of these apps allow you to text for free app-to-app (to other people with the same app installed on their phone). Yolla lets you text directly to someone's mobile phone in another country.
Why International Texting & SMS?
Sometimes, a text message is all you need. Maybe you're busy and don't have time to talk. Or, the person you want to reach can't pick up their phone, and you want to drop them a quick, important message ASAP with minimum distraction. 
This is exactly when international texting comes in handy.
What is the Best App for International Texting?
While there are many apps out there that allow users to send SMS worldwide, most of them only allow you to text app-to-app. What if you need to text someone directly to their mobile phone?
Because of its low rates, reliability, worldwide coverage and the ability to text directly to mobile phones abroad, many users believe Yolla is the best app for international texting. 
What is Yolla?
What is the Yolla app?
Yolla is an international calling and texting app. With Yolla, you can send low-cost international texts and SMS directly to any mobile phone in the world. Also, like other wifi calling and texting apps, you can call any other Yolla user for free anywhere in the world. All you need is a wifi connection. 
International Text & SMS With Yolla
For several years, the Yolla app has made international texting and SMS possible to any mobile phone with all major mobile carriers around the world. With Yolla, you can easily send international text messages to your family, friends & colleagues in more than 150 countries around the world.
App for International Texting and SMS – Yolla
With Yolla, you can easily send a quick text abroad in an instant without losing focus on your daily activities and call back later when you have the time. Yolla is cheap, reliable and easy, even if you've never sent an international text before. With Yolla, international texting is as simple as sending a local text.
Here are Yolla's key international texting features:
$0.15 / text

– Using Yolla to send international texts is much cheaper than using your carrier! 

Worldwide carrier-grade coverage

– Just like with

calls

, we provide reliable connections for international SMS you send. Your  guaranteed to arrive instantly, 

Keep your number

– Yolla also preserves your original phone number, so the other person will know that the SMS message was sent from you. 

Message history

– Yolla stores your message history just like any other messenger.

International Call/Text in one

– International texting and calling functions are both in one Yolla app – you don't need a separate app for SMS or calling. 
With Yolla, texting international numbers is as easy as sending a normal text message to any of your friends or family members at home. 
How to Text an International Number With Yolla
Here's how to send an international text message with Yolla, with a small visual guide:
1. Open Yolla and tap contacts.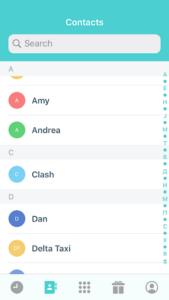 2. Open a contact you would like to send a message to & tap SMS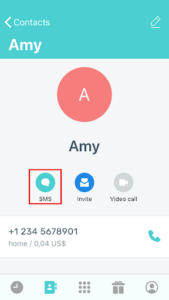 3. Type a message and tap Send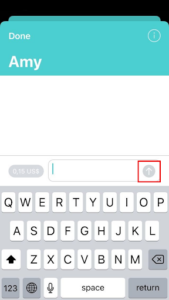 4. That's all!
If you need to send a quick text to someone in a foreign country today, feel free to download the Yolla app (iOS, Android) and start texting international numbers today. The app is free to download and available to practically anyone with a smartphone.
While many people need low-cost, reliable international texting to mobile phones, many of you out there may be asking another question: can you text internationally for free?
Free International Texting App – Yolla
With Yolla, there are three ways to earn free credits for free International texting. 
How to Text Internationally for Free With Yolla
Let's explain how to text internationally for free with Yolla. By earning free credits in Yolla via our referral program, the Android testing program and our regular promotions held on our social media channels, you can earn free credits for free international texting.
Let's look at how each program works. 
Referral program – Free international text and SMS
Do you know someone who could benefit from using the Yolla app? If so, you can share your personal download link with friends and family to download Yolla. When they download the app via your link and top-up their balance, you both instantly earn $3 in free texting or calling credit.
$3 = 20 international texts!
There is no limit to the number of $3 bonuses you can earn via the referral program. The more you share, the more you earn! You can find your referral code in the app menu. 
Android users will be delighted to hear about the second way for earning free international text and call credits.
Android Testing Program – Free international text and SMS
We currently run a beta testing program for Android devices. Here, we pay users to receive occasional test calls and texts to their phone. You don't even have to answer the calls or save the texts. Just see them arrive on your phone, ignore them and receive free credit!
Here's how to sign up:
Tap

Get Free Credits

Tap

Testing Program

Enable the test types you wish to participate in
That's it! You'll occasionally receive a test call or SMS and notice a small bonus appear in your balance.
The third method for earning extra free credits for texting is by participating in our regular promotions, held via Yolla's social media channels. 
Promotions 
Yolla regularly holds promotions in which we offer a promo code for a bonus on your next top-up – usually around 10%-15%.
By following us on our social media channels (Facebook, Twitter, Instagram, LinkedIn), you can stay up to date on all of our special events like this and be sure not to miss any promo codes.
How it works:
In a post, you'll either find instructions on how to receive a promo code or we show the code for you to copy and paste into the app.

Copy the code

Open the Yolla app

Tap

Settings

Tap

Promotions

Paste the code into the box

Tap

Apply Code
The next time you top-up your balance you'll receive a bonus based on a percentage of your top-up amount (depending on the promotion). 
Happy texting!
To be sure everything is clear, I'll clarify the most common questions about Yolla texts and SMS before ending this article.
Is International Texting Free With Yolla?
With Yolla, international texting is either free or charged a low rate. If you wish to text someone in another country for free, you can earn free credits for sending free international texts with Yolla's referral and testing programs. 
How Much Does International Texting Cost With Yolla?
Are there international texting charges with Yolla? Texting internationally with Yolla costs $0.15/text. 
International Texting to Australia
International texting to Australia with Yolla is the same as sending a text to any other country. The rate for sending an SMS worldwide is the same for all destinations, no matter where you or the person you wish to text is located. 
International Texting With iPhone
With Yolla, international texting on iPhone is the same as international texting on Android. Yolla is available for both systems and operates in the same way on each one.
Send Low Cost or Free International Texts Today 
If you wish to send an international text today, feel free to download the Yolla app (iOS, Android). You'll be texting within minutes.
And keep an eye on our updates. There are more interesting things we plan to show you soon!