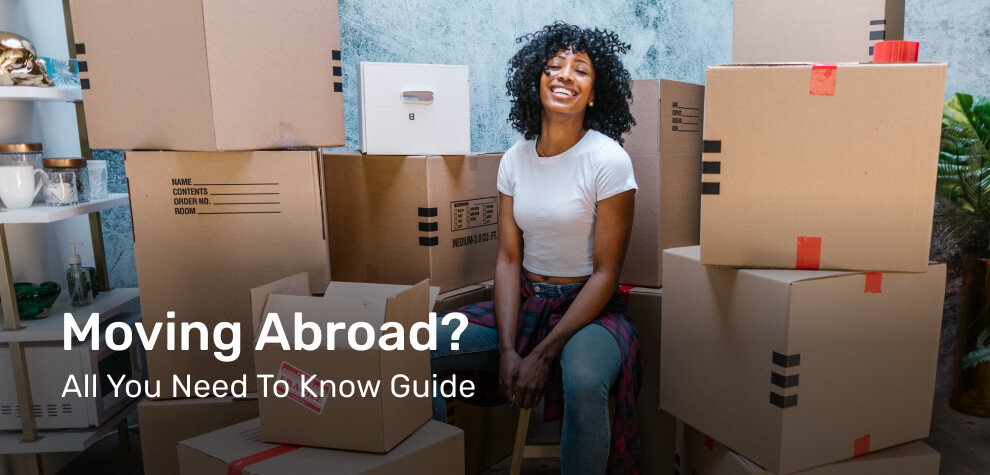 Moving Abroad – All you need to know guide
Are you moving abroad? Are you considering it? If so, you may have several questions about this exciting, yet intimidating adventure. Some are profound: is moving abroad a good idea? Others are more practical: what to pack when moving abroad? We're here to help take some of the stress out of the planning and answer many of these important questions. 
Table of Contents
Whether you're moving abroad from the USA or any other country, we've prepared a comprehensive 'moving abroad checklist' for you. Here's what you'll find in this article:
What to pack when moving abroad
How to keep your US phone number when moving abroad
What to do with your bank account when moving abroad
Moving abroad with pets
Moving abroad for work
How to get a job abroad before moving
Moving abroad without a job
Moving abroad with family
Your pension when moving abroad
Let's begin! Here's how to move abroad.
Moving Abroad Checklist
When moving abroad, what do I need to do? How do you move to another country?
Let's start with the basics: what to pack when moving abroad. Before you leave, you'll need to remember many small important items to bring with you. While this can be overwhelming, a moving abroad checklist can simplify the whole process. 
After you finish looking through this moving abroad checklist, I suggest taking 5 minutes to think of the most important things to do before moving abroad. You'll want to consider things to pack, specifically for your situation: 
E.g.
Passport

Visa documents

Documents for your employer when you arrive
The necessities for what to pack when moving abroad vary from person to person. 
Here is a moving abroad checklist to help you remember some of them.
What to Pack When Moving Abroad
Passport
Drivers license

 

Yours may be valid in foreign countries, but you'll need to confirm this with the appropriate local authorities in the country you're moving to. We suggest contacting the embassy of the country you're moving to.

Documents for a work permit

(if needed)

Documents for a work visa

(if needed)

Resume/CV

 

At least a digital file saved on your device. If you'll be trying to get a job upon arrival, it can be convenient to have it ready before you depart.

Travel wallet

 

To keep your tickets, passport, cash and other important documents together while traveling.

Foreign currency

 

Currency of the destination country. This can ensure you can pay for any small emergencies or important services when you arrive, like a taxi.

Adapter 

For your phone, computer and other electronic devices.

Appropriate clothing

 

Winter clothes, summer clothes, work clothes, shoes, boots, sandals, etc.

Wi-Fi calling app

To contact people back home once you arrive. I suggest

one

that also allows you to call directly to

mobiles

and

landlines

, to call any person or business you need to at a low rate.

Download

and

set it up

before leaving. You'll need to receive an SMS to connect your number and use the app. You'll also be able to keep your home number while abroad.

Translator

(app or book)

eSIM

(not a necessity)

For the country you're moving to. If your phone is just a couple of years old, it's likely eSIM compatible. eSIMs allow you to set up a data and/or voice plan remotely, so you're connected from the moment you land at your destination. eSIMs can be set up in minutes online, right from your mobile phone.

SIM card

(not a necessity)

If your phone isn't eSIM compatible. This gives you connectivity when you land. If you plan to use a physical SIM card, you'll most likely have to visit a local carrier after you arrive and purchase one.

Backup glasses and contact lenses

This can be useful until you get acquainted with a local optometrist in the new country who can assist you with any optical needs.

Accommodation

A hotel or hostel to stay in until you get long-term accommodation arranged.

Toiletries

The basics: toothbrush, toothpaste, shampoo, soap, and any other toiletries you use in your daily life.
Most of these items can also be found on a checklist for traveling, not only moving abroad. This is because many of the day-to-day essentials that we use for a short trip are necessary for our daily lives, in general.
Over time, you'll navigate finding an apartment, getting acquainted with local doctors, adjusting to local customs and more. 
Now, let's discuss some bigger, more specific questions about how to move abroad, like:
How to keep your US phone number when moving abroad

?

What to do with your bank account when moving abroad

?

Moving abroad with pets

 
And more. 
How to Keep Your US Phone Number When Moving Abroad (non-US numbers too)
If you want to know how to keep your US phone number when moving abroad, you have a couple of options (these also work for non-US numbers):
Ask your carrier to pause your number
Major mobile carriers will often allow you to pause your contract and hold your phone number. However, they often allow it only a couple of times a year for a limited amount of time (e.g. 90 days). If you're moving abroad for a year, this won't suffice.
Use a WiFi Calling App
A WiFi calling app allows you to make reliable, low-cost calls to any mobile or landline anywhere in the world. It's a convenient and low-cost solution for anyone looking to call worldwide from their home number while abroad.
Many of these apps allow you to keep your number so that the recipient sees your number on their caller ID.
They offer a range of benefits that make them highly popular:
Low rates

Reliable connections

Keep your number for free

Chances to

earn free credit

for free calls
And more. 
You can download the Yolla app for free today, verify your number, top up your balance and start calling any country, from any country immediately for rates as low as $0.008/min.
Download Yolla free today:
For example, if you're moving abroad from the USA: with Yolla, calls back home to the US cost one low rate of $0.008/min, no matter which country you call from. 
Using a calling app doesn't entail porting your number and ensuring that you will be able to port it back to another mobile carrier one day. However, it's a fast and convenient solution. It allows you to be up and ready in minutes once you land in your new country.
And Yolla let's you use your number for as long as it's connected to the app, even after your mobile carrier back home closes your number and plan.
Calling from your original phone number no matter where you are in the world is useful for many people.
It's especially useful for calling airlines and banks. Such companies often verify your identity by the number you call from. This brings us to our next tip for moving abroad.  
What to do With Your Bank Account When Moving Abroad
You may be wondering what to do with your bank account when moving abroad. Will you use it while you're there? If so, how? Will there be fees associated with this? 
Closing it isn't necessary, even if you're going to live for years in your new country. And it can be useful on several occasions. Here are some reasons to keep it open: 
If you don't need to regularly use the funds in your account(s), you may be able to keep it open at no cost. 

When visiting home, you'll be able to use your account and any cards associated with it to immediately pay in the local currency when you arrive. You won't ever have to consider exchange rates or withdrawals from your foreign bank while home. 
If you decide to keep your bank account open when moving abroad, here are some tips:
Meet the criteria

for avoiding monthly fees

For example, if your bank requires a minimum balance in your accounts to avoid a monthly fee, check if you can maintain this balance while you're away. 

Some banks require a monthly deposit or transfer to avoid a fee. Though it's inconvenient, you can set a reminder each month to transfer from one account to another (e.g. savings to checking).

Use it for transfers

 

Will you need to access the funds in your account or are you a freelancer who regularly gets paid in your home country's currency? You can transfer money from this account to an account in the new country. You may want to try an

'internet bank'

. These banks cater to expats and freelancers, offering low conversion and international transfer fees. 

Use it for purchases

when you first arrive. 

You can use a debit card connected to your home account to purchase goods and services in the new country when you first arrive. This can be convenient until you set up a local bank account. 

Check

foreign conversion

and

transaction

fees on payments with your card connected to your home bank. If the fees are low, it can be a useful alternative to withdrawing money from an ATM (bankomat) and converting it. 
If you can afford to keep it active, then you might appreciate using your home account for miscellaneous reasons while in the new country and when you return to visit.
Now, what if you're not moving abroad alone? What if you're moving abroad with pets? Many people who are considering moving abroad, wonder if they could bring their pet along with them. 
Moving Abroad With Pets
Many people are interested in how to move abroad with pets. If you're thinking about moving abroad with a cat or moving abroad with a dog, there are several things to consider before you go and after you arrive. In the end, it will be an enriching experience to share with your pet.
It's almost impossible to move abroad with a large dog if you're flying. In rare cases, airlines will let you check in your dog in a crate. In this case, your dog will remain underneath with the checked luggage, which can be a traumatizing experience.  
Here are a few things to consider before moving abroad with a pet:
Check pet import laws of the new country

Many countries have strict laws about which animals people can enter with and what requirements the owners must meet to bring them in. For accurate and up-to-date information, do a quick Google search or contact the consulate of the country you plan to move to. 

Contact the airline

Does the airline you're flying with accept flying with pets? You can contact the airline beforehand to confirm these details.

If yes, you'll need a travel case specially designed for pets. There are shoulder bags for small dogs and cats.

Start getting your pet accustomed to their travel case early

Introduce your cat or dog to their travel case months before the trip. If your dog or cat isn't heavy, put them in in it several times a week and regularly take them for a walk. Or consider letting them sleep in it for many nights before you travel.

Talk with your vet

Your local vet will be a good point of reference for any health issues your pet may face before and after you leave. They'll inform you of any concerns they have about your pet making the long journey and can provide necessary vaccinations.

Vaccinations

 

Does your cat or dog have the necessary vaccinations to live in the new country?

Exotic pets

Many airlines don't allow passengers to fly with exotic pets. Also, check the policies of the country you are moving to. The local authorities may forbid entering the country with specific exotic pets. This is a question to ask the consulate of the country you're moving to. 

Start preparing early

Acquiring the necessary documents to move abroad with a cat or dog can take up to 6 months for some countries.

Consider working with a pet relocation service

A pet relocation service can help ensure you get all the necessary documents in order for the country you're moving to in time. They can also help you avoid any surprises or difficulties that can arise when moving abroad with a dog, cat or another animal. 
They can offer stories and tips from other people who've successfully moved abroad with a pet, just like you.
They can be a helpful tool if you're feeling nervous about moving abroad with your dog or cat.
These are our steps to move to another country with a pet. 
Now, what if you're not moving abroad with a pet, but you're moving abroad with family? There are also some points to consider in this case as well.
Moving Abroad With Family
Moving abroad with family can be a wonderful experience. If you're moving abroad with a child or other family members, you may have some questions:
Are you moving abroad with people who take medication? 

Are your family members physically handicapped? 

Do they need wheelchair services? 

Are you moving abroad with a child?
Let's answer these questions in detail.
Moving Abroad With Family Members Who Take Medication, Need Wheelchair Services, or Struggle With Mobility
Access to medication

 

If you're moving abroad with family members who regularly take prescription or over-the-counter medications, it will be important to check if these medications are available in the country you're moving to (Google search or contact the consulate of the country).

Moving abroad with family members who are physically handicapped

 

People who require wheelchair assistance can fly. Just notify the assistant when you check-in that you'll be traveling with someone in a wheelchair. If needed, they'll assist your family member at boarding and unboarding. 

Your wheelchair will be stored in the undercarriage with checked luggage during the flights, which may subject it to damage.
While some of you are moving abroad with parents, others may be moving abroad with a child, which requires attention to unique details. For example, what school will they attend? Will they like it? What if they struggle with the adjustment?
Here are our tips for moving abroad with a child. 
Moving Abroad With a Child
The physical act of moving abroad with a child is relatively simple. Some children cope better than others on long flights or drives. Most airlines and staff are ready to support people flying with a child. 
But what about their life in the new country? What issues might you face and how can you avoid or resolve them? 
Here are some common answers to the question, "What advice would you give to someone moving abroad with a child?
Visit

the new country with your child or children before moving

Involve your child in the

process

of moving and share the experience

Search for a good

school

Choose an

area/neighborhood

that will suit your family

Plan and do lots of

research

Accept that it will be

difficult

at times

Try to help your children embrace the new

language

and

culture

 

Stay

connected

with people at home with a

WiFi calling app

Choose the right

apartment

or

house

Get a

health care

plan for the whole family

Enjoy the

process

!
Moving abroad with a child can be an overwhelming experience for them. Prepare to provide support for them when they need it.
The best advice we can offer a family moving abroad is to involve the kids in as much of the process as you can, without overwhelming them. 
Whether you are moving abroad with family, a pet or moving abroad alone, you may be planning to work in your new country.
Moving Abroad Without a Job
Moving abroad without a job can be intimidating. However, if you've chosen this avenue, we're here to tell you that there are some opportunities for you to find a job after you arrive.
Teaching English
One common job opportunity for native English speakers is to teach English at a local private or public school. If you're interested in teaching English abroad, a Google search will produce numerous opportunities for teaching in schools on almost any continent. 
Another option is to go door to door to schools after you arrive.
We recommend getting a TESL or CELTA certificate in your home country before you leave. You can enroll in a TESL or CELTA course either at a local university, language institution or online. 
Careful: some online courses can be a scam, so be sure to thoroughly research any online course before joining. 
A TESL or CELTA certificate can increase your chances of finding a job, though it's still possible to find a teaching position without one – it depends on the preferences of the school you apply to. 
Other Work Opportunities Abroad
Whether you are an English speaker or not, you may be able to find other job opportunities after you arrive.
For English speakers, you may find an opportunity to work as an editor, proofreader, copywriter, or any other English-language position. There may also be opportunities in marketing, IT, finance, tourism or any other field. Scan the online job boards of the new country or city for available job opportunities.
If you're a freelancer who's moving abroad, you may be able to find freelance work through job sites like Upwork, Fiverr or PeopleForHire.
Besides finding employment, there are a few other points to consider to ease the process of moving abroad without a job:
1. Prepare Your Finances Before Moving Abroad
Before leaving, you'll want to be sure your finances are in order. 
While leaving with nothing but a couple of possessions may seem romantic, it's also not very practical. You may run into trouble sooner than you expected. At the same time, you may enjoy using this opportunity to declutter.
Having your finances in order can help ensure you aren't stressed or feel pressured to find a job immediately after you arrive. 
If you're currently working, you may want to set aside a portion of each paycheck to help support yourself when you move. You may be surprised at how effective this plan can be!
It may also be helpful to cut out some of the costs in your life. 
Gym memberships, coffees from cafes, books, cable subscriptions and other small expenses can add up quickly. Some of these habits can be replaced (e.g. jogging, brewing coffee at home, checking out books from a library).
At the same time, it's important to be diligent in your job search once you arrive and use time wisely so your transition to a new job abroad is swift and successful. 
2. Learn the Language
You can benefit in multiple ways from learning the local language of your new country. This can help you make friends, become a new hobby and source of enjoyment and may lead to new job opportunities.
Being able to communicate with locals in their local language will help you meet people. 
Learning the local language can also be an enjoyable hobby. You may or may not like it. If you haven't tried learning a new language, you may find that you thoroughly enjoy the challenge. However, it may take some time for you to put sentences together to start enjoying the process of learning. The beginning can be difficult. 
We suggest enrolling in a language course at a local school, online language school, or even trying a language learning app like italki, Duolingo or Babbel.
3. Volunteer Abroad
Volunteering is a great way to cut back on spending and for networking to eventually find a job.
Volunteers often earn something in return for their work. For example, you may earn a place to sleep. This can be a great option once you arrive. It can cut your housing costs to zero while you adjust to your new environment and search for a job. 
Volunteering will also allow you to meet potential employers interested in offering you a job. 
We suggest browsing Workaway or WWOOF for potential volunteering opportunities in your new city or town.
Sites like these help match volunteers with organizations and groups around the world that offer housing in exchange for some hours of work each day. 
Once you find a job, your employer will likely help you with your work visa, if you need one. However, not all employers will do this. This is another point to keep in mind while moving abroad without a job.
Getting a Work Visa
Some employers help with this while others can't or choose not to provide visa support. The process for getting a work visa for a foreign citizen varies from country to country. 
Often, there are two documents you and your employer will need to get – the work permit and the visa. If your employer is willing to provide visa support, they'll likely manage to get a work permit and you'll likely have to apply for the visa yourself. But this won't be the case in all countries.
If your employer does not provide support, you'll have to explore the opportunities for getting a visa that allows you to live and work in your new country long-term. 
Some governments offer freelance visas or other special visa arrangements for foreigners interested in working in their country. This can be a good opportunity if you're moving to one of these countries.
Some of these tips may help you adjust more comfortably while you move abroad without a job. 
If you're wondering how to get a job abroad before moving instead of after, many of the above tips can still help you. You may try to find an English teaching job or browse online job portals before you go.
However, many people moving abroad already have a job arranged in the new country. If this is you, here are some tips for you.
Moving Abroad for Work
If you're moving abroad for work, and you already have a job, then your employer is likely already sorting out your visa and work permit for you.
So, what else should you prepare for, before your move abroad? Here are some of our tips for moving abroad for work:
Find an apartment

One of the best ways to find an apartment in a new country is by searching online apartment rental sites. Some countries have convenient sites that connect renters with landlords, much like the volunteer sites above. 

Many of these sites offer the opportunity to find both roommates or a whole apartment.

Find foods that you can cook that fit within your dietary restrictions

(if any)

For example, if you're a vegetarian you may want to find out which foods you can buy at the supermarket that fit your dietary restrictions. You may also like to find some restaurants that fit your diet as well. 

Learn how public transportation works

If you won't have a car in your new country, consider asking a friend, colleague or acquaintance in your new city. Ask them how the public transportation system works – how and where to get tickets, how long tickets are valid for, riding zones, hours of operation and more.

Remember that customs in your new country may be very different from those at home

For some people, adjusting to the customs of a new country isn't a challenge. For others, it is. You may find yourself in some surprising moments. It helps to consider how the situation differs from what you expected and to keep it in mind for next time. This will help you adjust more smoothly over time.
Once you have your visa and living arrangements and you've decided on what to do with your bank account and phone number from home, the rest is about adjusting to the new culture. This can be both exciting and challenging.
Before we close this article, we'll answer one last question about what happens to your pension when moving abroad. For a select few travelers, this is an important one.
What Happens to Your Pension When Moving Abroad
Some of you may be curious about what happens to your pension when you move abroad. This is a tricky question to answer and depends greatly on where you live and where you're moving to. 
We know that in some regions of the world, like in the European Union, when a citizen moves to another country within that regional union, he or she will pay taxes into the same pension fund they were paying into in their home country. However, the details of the exact laws that cover this issue should be confirmed. Our assessment may not be completely accurate.
Regarding other regions, we can't say for sure how it will impact your pension in your home country. If you're moving to a foreign country on another continent, the situation will be different. We cannot advise on this topic with confidence. 
We suggest seeking legal advice from a relevant and experienced lawyer to find a reliable answer to what happens to your pension when moving abroad. 
Stay in contact with family and friends back home
Moving abroad can entail many challenges and matters to sort out before you go and after you arrive. Now you're ready to start planning your move.  
Don't forget how important it will be for you to stay in touch with your loved ones and friends back home. You may have a lot of stories to share with them! 
With a WiFi calling app, you can call any phone (landline or mobile) anywhere in the world for dirt cheap. So no matter where you're going or where you're from, you'll always be able to stay in touch with home at affordable rates. You can download the Yolla calling app today via the button below.
Lastly, remember that your new home will entail customs and traditions that have evolved in that society for hundreds of years. Being open to your new surroundings can truly help you adjust to the new culture. Enjoy!
Download Yolla free today: