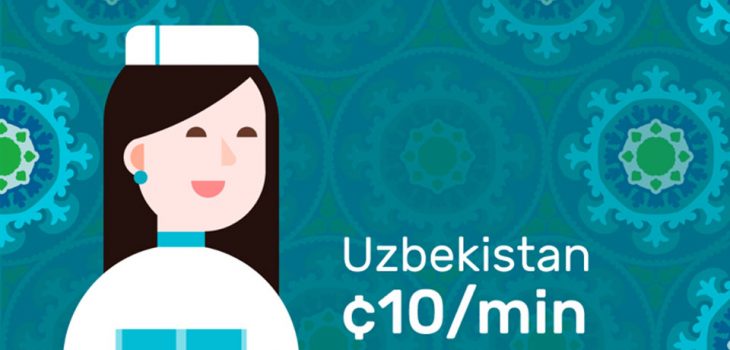 The Republic of Uzbekistan is a country located in the central Asia, bordering with Kazakhstan, Kyrgyzstan, Tajikistan, Afghanistan, and Turkmenistan. In fact, Uzbekistan is one of only two countries in the world doubly landlocked, meaning it has at least two foreign borders to cross to get to the coastline.
A former Soviet Union member, now Uzbekistan is home to almost 33 million citizens. The capital city of Uzbekistan is Tashkent, a beautiful and remarkable place to visit.
But let's not forget we are a calling app blog, not the geography one. There are a lot of immigrants from Uzbekistan all over the world, who call back home on a daily basis. Especially there are a lot of calls to Uzbekistan from US. Recently, all the mobile carriers in Uzbekistan have raised the rates significantly. Luckily for Yolla users, we have been keeping our rates low for as much as we can, so that people can keep on talking to their families and co-workers. Our international calling rates to Uzbekistan can be seen on the Yolla website in the Cheap calls to Uzbekistan section.
How to call Uzbekistan?
Easy as one-two-three. Forget about calling card for Uzbekistan and follow our guidelines:
First, install Yolla app and follow the guides in there.

Second, buy some credits. You can do that inside the app or on our official website.

Third, choose a contact from your address book or just dial a number. You will see the price per minute.
Keep in mind, that to call to Uzbekistan you need to type in its country code first, which is +998! Check some other useful data on Uzbekistan, such as local time here: https://yollacalls.com/country-codes/998-area-code
Vou ala! Now you can make cheap unlimited calls to Uzbekistan for as low as $0.027 per minute!
A little hint: wonder how to call Uzbekistan for free? Invite friends and get $2 per each first top-up from your link! More info here: https://yollacalls.com/free-credits
Start calling smart with Yolla!