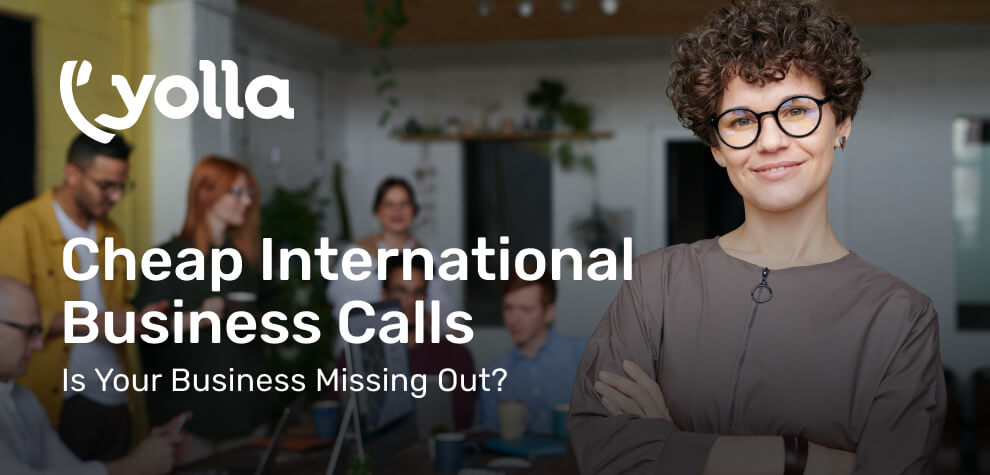 Cheap International Business Calls – Stay Connected
Plenty of people make international phone calls: those who recently moved abroad and want to call family, those who are on vacation, etc. However, one of the largest contingents is the people making international business calls. With the emergence of VoIP international calling, international business calls can now be quick, cheap and reliable. It depends on which app you choose.
In this article, we look at how businessmen and women can make cheap, quality calls for business – international or domestic. 
What's the Best Way to Make Cheap International Calls for Business? 
If you're a businessman or woman looking to make high-quality international business calls for cheap, then Yolla is for you. 
In the modern era of globalization, an overwhelming fraction of businesses interact with organizations or individuals abroad for a myriad of reasons:
International conferences

Business meetings abroad

Foreign partners
All of these things require high-quality international business calling plans. 
For the business world, an international business calling plan must offer three key features: 
Competitive price
High definition
Consistent reliability
Unfortunately, many international business calling plans on the market can not deliver all three. Standard cellular carriers pride themselves on reliability but consistently charge exorbitant rates for international voice roaming calls. 
Many VoIP apps offer competitive prices but suffer from voice quality problems (stutters, lag, etc) and reliability. 
Calling card services offer excellent rates but complicated use procedures and questionable reliability.
Yolla prides itself on hitting all three needs for quality international business calls.
Yolla – The best way to make international calls for business
Yolla offers high-quality international business calls to any mobile or landline in the world that are reliable and priced at some of the lowest rates on the market. 
Remarkably Competitive Prices for International Business Calls
Price is sometimes not the largest concern for individual employees. After all, international business calls are often covered by the employer. However, from a company standpoint, communication infrastructure can form a major expense. Consequently, offering employees a cost-effective tool for making international business calls – without compromising on quality – is critical.
Yolla offers some of the best rates of any of the other business VoIP calling plans on the market. With transparent pricing, no hidden fees, and no deceptive business practices (such as three-minute rounding, etc), Yolla can be an asset to any business.
High Definition Voice for International Business Calls
Anyone who has used a VoIP unlimited international calling service has experienced the occasional stutter, freeze, or lag. Whether it's one of the titans like Skype, FaceTime or WhatsApp or if it's a lesser-known app, international VoIP calls often suffer from internet-dependent quality issues. 
The same can be said of cellular voice calls with grainy, quiet audio that can occur depending on the telecom service routing the call.
Business clients deserve the least possible voice quality issues in order to be able to wholeheartedly focus on their daily work goals. Yolla has taken up this challenge by priding itself on offering one of the clearest, smoothest voice qualities in the voice over IP international calling world. 
Coupled with Yolla's ability to make international business calls directly to cellular numbers abroad and the option to keep your number (so the person you're calling sees your number on their caller ID) users are constantly impressed with their experience with the app.
Market-leading Reliability for International Business Calls
One of the most frustrating experiences one can have on a call is having the voice suddenly cut out, only to be replaced with the message "Call Failed." Both VoIP international calling services and cellular services can suffer from this issue. This can be incredibly frustrating to the standard consumer but it can be even more serious for the high-power business person. 
Every dropped call is a hit to efficiency, possible sales, and precious time.
Yolla offers one of the most stable and reliable platforms for international business calls. With no call interruptions or failures and a constantly improving service, Yolla offers business people an unrivaled vehicle for their communication needs.
Whether you need to make an international business call to a partner abroad, you're traveling to an international conference, or you're calling home from a business trip, Yolla offers one of the cheapest, most reliable, and highest quality solutions on the market today.
Let's look at the specific features Yolla can offer.
Yolla International Business Calling – Features
At Yolla, we understand the needs of international business travelers and those conducting international business each day from home. Whether you are an employee or an employer, Yolla makes calling international for business cheaper and more reliable. 
With, Yolla you get:
International business calls
This is the main function of the Yolla app:
Make cheap international business calls to

190+ countries

– both mobiles and landlines

Use either the dial pad to enter the number manually or choose from your contacts
Just remember that the number must be in international format – it should start with "+" and the country code. 
You can find every country code in the "prices" menu inside the app or on the country codes page of the Yolla website. Here, you'll also see the local time of the country you want to call. 
To make a call, you need to first top-up your account. You can do this from within the app or in your account on the Yolla site.
Keep Your Number
Once you sign up and register your number with the Yolla app, Yolla preserves your original number. 
So, when you make a call, the person on the other end sees your number on their screen. Whoever you call will always know it's you who's calling. For the recipient of your call, it's the same as if you were calling them via your mobile carrier. 
This can be highly useful when making business calls as your partners and colleagues will be reluctant to answer calls from unfamiliar numbers. Displaying your number (or name) on the recipient's caller ID ensures your call will immediately be identified and answered. 
You can rest assured none of your calls will be missed due to the recipient not knowing it's you calling. 
This feature is also useful for calling banks and other organizations that identify their clients by their personal phone numbers.
App-to-app calls are free
If your employees all use Yolla for making international business calls, then each of them can call one another via Yolla for absolutely free from anywhere in the world. 
This is true for anyone with Yolla installed on their phone. Whether they are a business partner, colleague, family member or friend, app-to-app calls with Yolla are always free, from anywhere in the world. All you need is an internet connection.
How do you know if the person you're calling has Yolla installed? If you see the "Free call" button next to a contact in your Yolla phonebook, this means that this person also has the Yolla app installed and you can call this person for free via WiFi or your mobile data.
Referral program – Make free international business calls
Consider the following example. You're getting ready for a business trip, so you suggest to your family and friends that they download Yolla with your referral link so you can stay in touch for cheap or free while you're abroad.
For every person that downloads the app via your referral link and tops up their account, both you and that person will receive $3 to your Yolla accounts. 
Multiply $3 by every family member and friend who downloads Yolla and tops up their account. That's a lot of free credit! You can use this credit to make your out-of-app calls to mobiles and landlines anywhere in the world for free. These can be international business calls or calls to friends and family. 
Here's how to invite friends and earn free credits for international business calls and calls to friends:
Open the

Get Free Credits

menu (Android) or tap the

Gift button

(iOS) and invite your friends

Once your friend tops up their account, you'll both get an extra $3! 
You can learn more about this feature on the Yolla site or go directly to the Referral program screen in the app and invite friends there.
International Mobile Top-up – Top-up employee accounts all around the world
With Yolla, you can top up mobile phone numbers in 145+ countries and 500+ operators. 
Currently, this feature is available for our users based in the USA, Canada, Russia, Australia, and New Zealand. 
This means that if you are located in one of the above five countries, you can top up the account of any of your employees located in any of the 145+ countries Yolla supports. 
There's nothing complicated here. With mobile top-up, it's practically the same as topping up your own account. Just enter the number of the employee or friend whose account needs to be topped up and send the funds.  
You can read more about mobile top-ups and how to do them here. Or visit the mobile top-up screen in the app.
International SMS – Not only international business calls
Send an SMS to any mobile phone in the world. 
With Yolla, you can also send an SMS to any of your colleagues or friends located anywhere in the world. 
Sending an international SMS with Yolla is as easy as sending an SMS from your mobile carrier or any other texting app:
Choose a contact from within the Yolla app

Tap the "SMS" button

Write your message

Tap Send
There is one flat SMS rate – only $0.15 per message. Yolla's international SMS rate is cheaper than using your local carrier to send an international SMS. 
You can read more on international SMS texting via Yolla here and here.
Domestic Employee Top-up
So, you have decided to use Yolla for your employees to ensure they can all make high-quality international business calls with a reliable connection at low rates. While it may sound complicated to manage all of your employees' accounts, we have great news for you.
You can recharge each employee's Yolla accounts from your single account. Simply send credits directly to each employee's balance just as you would do for your own balance. 
This feature is similar to the international mobile top-up feature we discussed above. You can manage account balances for each of your employees from directly within the Yolla app and ensure your employees will always be able to make cheap international business calls to any mobile or landline in the world.  
Business Invoicing
Businesses that use Yolla can receive an invoice for their credit purchases. 
The process is simple:
Contact us and request an invoice for your company (for $100 and more)

Yolla will top up your Yolla account as soon as we receive the wire transfer
Once you receive the funds, disperse them to your team accordingly.
Google Assistant – Hands-free calls
You can use Google Assistant to make hands-free calls via Yolla. 
Just make sure you have the Yolla app and Google Assistant installed on your phone and that you have synchronized your contacts with Yolla. 
You can learn more about how to use Google Assistant to make hands-free international business calls with Yolla in this blog post.
24/7 Support for all International Business Call Needs
This is a must-have for any team regularly making international business calls. Our dedicated 24/7 support can help you and your colleagues with any issue that may arise. 
If you can't find the answer to your question on the FAQ page of the Yolla website, you can contact us directly in several ways:
A Yolla support specialist will respond in the blink of an eye!
Promotions – Earn credit free international business calls and more
This isn't a feature per se, but we regularly run promotions where we run contests with different prizes, give out top-up promo codes and share useful content related to making international business calls as well as international calls to friends and family! 
We notify all of our users via emails, push notifications and the "What's New" feed in the app (tap the "bell" button in the "Recents" menu to find the "What's New" feed). 
We also post about our promos on our blog and our social media channels (Facebook, Instagram, Twitter, YouTube). So, be sure to follow us on our social media accounts to stay up on promotions and other updates.
These key features, as well as the opportunity to make international business calls for free, are what make Yolla the best choice for teams and individuals who need to stay connected to colleagues, partners, family members and friends from anywhere in the world. 
How to Make International Calls With Skype for Business
Many people looking for a way to make international business calls to mobiles and landlines may ask, "Can I make international calls with Skype for Business?". 
As we mentioned before, there are many wifi calling apps available for making international app-to-app calls. Several of these apps, like Skype for Business and Viber, have developed some limited functionality for making international business calls and regular calls to mobiles and landlines. 
While they offer free app-to-app calls, many don't offer calls to landlines or mobiles and the ones that do allow calls to a limited number of countries.
What sets Yolla apart is the ability to make reliable, high-quality calls to any mobile or landline in the world from any location in the world at the lowest rates available. 
Top-up functions like "Mobile Top-up" and "Employee/Friend Top-up" make it ideal for teams that need a reliable solution for making cheap international business calls.
Can You Make International Calls With Google Voice and Google Hangouts?
As Google Voice becomes more popular, many people want to know if they can make international calls with Google Voice or Google Hangouts. 
Google Hangouts is primarily a conferencing and collaboration tool that's not used for calling directly to mobiles or landlines. 
Google Voice lets you call mobiles and landlines in the US, but it doesn't preserve your number, it's only available to people with a US or Canadian phone number and they have fees for international calls.
Calling internationally with Yolla is a simple as calling domestically from your phone and the app offers some of the lowest rates on the market. 
This simplicity, affordability and wide range of features that come with Yolla make it a preferred choice among people looking to make international VoIP calls for business or personal reasons. 
Download Yolla Today for International Business Calls
There is a major segment of people out there making international calls who need a reliable way to stay connected to colleagues or to family and friends while they are away on business. 
It's incredibly important to ensure that you can not only connect with different colleagues via a wifi calling app. In many cases, these apps don't suffice. Not everyone has an iOS device and can't connect via Facetime. Not everyone has Whattsapp – it's not popular in every region of the world.
In many cases, the simplest way of contacting someone is by calling their number directly. It can be incredibly inconvenient if you have to pay exorbitant rates and lose your personal number in the process.
Calling internationally shouldn't be complicated. Being able to make reliable, high-quality and affordable international calls is everyone's right. 
With Yolla, you can rest assured that you will always have the ability to contact who you need from anywhere in the world for free or at rates that won't break your bank. And you'll get to keep your identity, so you won't confuse anyone you call. 
You can start using Yolla for cheap or free international business calls today by downloading the app (Android, iOS) and topping up your account. It's that simple.
And don't forget about all the features and bonuses for making free calls mentioned above. 
Enjoy!