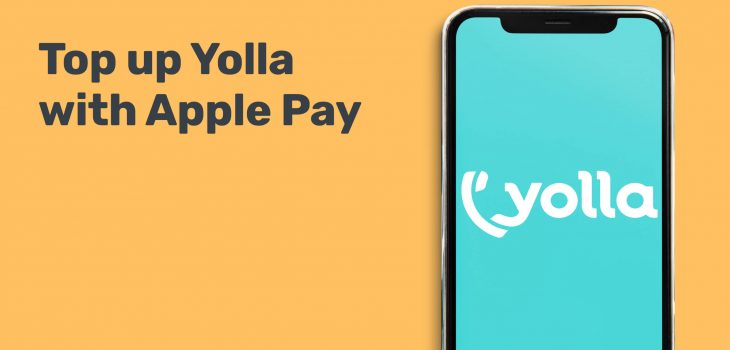 We've got great news for our iOS users! Now you can top up Yolla with Apple Pay.
If you were paying with in-app purchases before, then now you can forget about App Store fees – you won't have them with Apple Pay.
The process is simpler than ever: you Pay using Touch ID or Face ID. To top-up your balance with Apple Pay:
tap "Add credits" in the main menu
choose the amount
tap "Apple Pay"
Apple Pay currently doesn't work in Europe and some countries. You won't see it if your country isn't supported yet.
We support Apple Pay in the following countries:
Angola
Antigua and Barbuda
Argentina
Armenia
Aruba
Australia
Azerbaijan
Bangladesh
Barbados
Belarus
Belize
Benin
Bhutan
Bolivia
Brazil
British Virgin Islands
Burkina Faso
Cameroon
Canada
Cayman Islands
Chad
Chile
Colombia
Comoros
Congo (Brazzaville)
Costa Rica
Djibouti
Dominica
Dominican Republic
Ecuador
El Salvador
Equatorial Guinea
Fiji
Gambia
Georgia
Grenada
Guatemala
Guinea
Guinea-Bissau
Honduras
India
Indonesia
Jamaica
Japan
Jordan
Kazakhstan
Kenya
Kosovo
Kyrgyzstan
Macao
Madagascar
Malawi
Malaysia
Maldives
Mali
Mauritania
Mauritius
Mexico
Mozambique
Myanmar
Namibia
Nauru
Nepal
Netherlands Antilles
New Zealand
Niger
Papua New Guinea
Peru
Puerto Rico
Réunion
Russian Federation
Rwanda
Saint Kitts and Nevis
Saint Lucia
Saint Vincent and Grenadines
Senegal
Seychelles
Singapore
Sint Maarten
Somalia
South Africa
South Korea
Suriname
Swaziland
Taiwan
Tajikistan
Tanzania
Thailand
Timor-Leste
Togo
Turkmenistan
Ukraine
United States
Uruguay
Uzbekistan
Venezuela
Viet Nam
Zambia