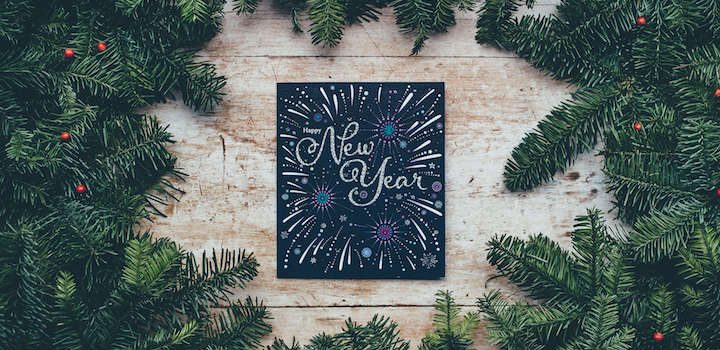 Thanks to Gregorian calendar Western Hemisphere will step into a new 2017 year and a new life this Saturday when we all will be celebrating New Year's Eve. However, while the most of us will be sipping champagne, dancing and having a great time with friends and family, the rest of the world will be waiting for their turn to say goodbye to 2016 as some cultures are accustomed to New Year taking place at an absolutely different time. For instance, Chinese and Vietnamese New Year is going to be late-January this time, some other cultures which follow the Julian lunar calendar will be celebrating in mid-January, while the Jewish Rosh Hashanah is in autumn.
Needless to say, each culture has its' very own precious way to celebrate New Year. In case you have a chance of finding yourself in another country at midnight on 31st or just want to celebrate in a new extraordinary way we've prepared a review of some unique customs and traditions of New Year's Eve celebrations worldwide.
Estonia and 12 Meals to Eat
Here in Estonia, we believe that to be strong and successful throughout the coming year you need to have 7 to 12 meals during New Year's Eve dinner. Why may you ask? Well, with each meal you gain the power of the same quantity of men for the whole following year. As you may guess, each family starts doing New Year's dinner preparations long before the 31st. And thank God we are not French or Italians – having some food left is not taken as something offensive, so you may not worry about eating too much.
Want to ask your Estonian friends what 12 meals will they make for this New Year? Call Estonia with Yolla and ask them!
Denmark and Broken Dishes
In Denmark, to wish your friends all the luck for the following year, you smash as many dishes as you can in front of their doors! Indeed, if you want your friends to be happy – take your dishes and throw them on their doorstep. Sounds strange but might turn out to be really fun, however, be careful not to use your grandma's old precious porcelain!
Want to learn the art of breaking dishes from your Danish friendss? Call them to Denmark with Yolla and ask them to train you 🙂
Finland and Melted Tin
In Finland, they may tell you New Year's fortune on the 31st of December! That's right, to do that you need to melt "tin" (which is lead) and quickly throw it into a bucket of icy water. The shape of a thing you get afterward may be interpreted in many ways, one of which can predict your future. By the way, this tradition is also popular in Germany.
Fancy asking your Finnish friends to predict future for you? Go ahead. And Yolla's cheap calls to Finland will help you with that!
Ireland and Mistletoe Under the Pillow
Want to find the love of your life and get married next year? Take the example from Irish women. They don't hesitate to put sprigs of mistletoe under pillows before going to bed and strongly believe that will bring a perfect stranger aka future husband and as an extra – a bit of luck for other things next year. Another Irish superstition is to take a careful look at the very first person coming to your home after midnight: red-headed women bring a lot of troubles while handsome men – good fortune. Huh, sure.
Have your female friends from Ireland already found husbands thanks to mistletoe? Call abroad to Ireland with Yolla and ask them!
Russia and Eating your Wishes
To be sure their wishes come true Russians make absolutely strange and a bit crazy (in a good way) thing. During the bells chiming they write down their wishes on small pieces of paper, burn it, put ashes into champagne and drink the cocktail as fastly as possible. If you manage to do all of that in the last 12 seconds of the year – your wishes will come true! Moreover, New Year's Eve is the time when the Santa-like guy called Ded Moroz (Grandfather Frost) together with his granddaughter Snegurochka (Snow Maiden) giveaway present to children who did behave well. To get to know other Santas from all over the world – check out our blog post.
And if you want your Russian friends to teach you how to it wishes – don't hesitate – simply call them to Russia and ask!
Greece and New Beginnings
In Greece, they take a New Year as the new beginning quite seriously. First of all, they hang onions on their doors as a symbol of rebirth. On the first morning of the year, parents tap their children on the heads with those onions to wake them up and go to church. Moreover, at midnight they turn off all the lights to meet New Year with fresh eyes.
Don't know how to hang  onions or what onions to use for that? Cheap calls to Greece with Yolla will help you to ask your Greek friends about all peculiarities of these nice tradition.
Spain and 12 Grapes
In Spain and many other Spanish-speaking countries, it's common to accept a challenge of eating 12 grapes at midnight to have all the luck the next year. Sounds easy, but don't be naive – you have to eat one grape each time the bell tolls. While eating you must think over your wishes and dreams – and if fast enough, they may come true! To share your victory over grapes and timing don't forget to call your Spanish friends via Yolla.
The Philippines and Polka Dots
Filipinos don't only look fashionable on New Year's Eve wearing polka dots, but also carry coins in their pockets, eat round food, and display oranges and grapefruits all around as they strongly believe that round objects bring prosperity. Good reason to take on polka dots as well if you are still struggling with what to wear on New Year's Eve!
Do other round objects and fruits bring prosperity (apart from oranges and grapefruits)? Ask you Filipino friends about that if you have any. Our calling rates to Philippines with that.
Japan and Toshigami
In Japan on New Year's Eve Buddhist temples ring their bell 108 times which is a way of welcoming New Year's God Toshigami. To start their lives almost from scratch with the first day of the year they also clean houses, give thanks for everything to their friends and relatives and try to resolve conflicts from the past. To maintain the tradition call your Japanese friends and thank them for everything – for this, our rates to Japan are extremely cheap!
Ecuador and Burning Pales
In Ecuador, Panama, Paraguay, and Colombia people found probably the strangest way of negative energy disposal by the beginning of New Year. They make effigies of people they don't like (mostly politicians) and burn them on the streets at midnight. If that sounds too cruel for you, they have another tradition of hiding coins all around to bring prosperity in the New Year to your family. Well, in case of being broke throughout the year that sounds like a plan.
Wherever you go this New Year's Eve the main thing is to celebrate it with people you love. And if there's still someone far away – call them abroad via Yolla! They don't even need to have an Internet connection – with us, it's easy to call anywhere, anytime. We promise to carry the best connection even at midnight on New Year's Eve!